Hanesbrands Investors Should've Seen Target Cancellation Coming
(Bloomberg) -- Hanesbrands Inc. lost about one-fifth of its market value Wednesday on news that Target Corp. won't renew an exclusive deal for a line of Champion athletic wear that expires at the end of January 2020. But the writing has been on the wall since last year.
Target introduced its own activewear line, JoyLab, just over a year ago, part of a broader push to add more than a dozen store brands across key categories like home decor and apparel. At the time, the cheap-chic retailer said it was happy with its C9 line by Champion -- a unit of Hanesbrands -- but profit margins on store brands are much higher compared with giving a cut to a partner.
The Champion brand's heyday was the 1990s, when its sweatshirts were worn by everyone from high-school jocks to hip-hop stars, and it became the exclusive uniform maker for the NBA. Hanesbrands has found some success reviving the Champion brand -- which turns 100 next year -- by entering partnerships with trendy fashion lines like Supreme, Undefeated and Vetements.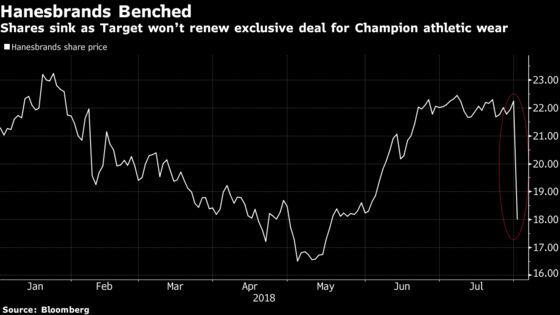 While the C9 line had $380 million in sales at Target in the past twelve months, according to a statement Wednesday, Hanesbrands still projects sales of more than $2 billion worldwide for it by 2022.
Hanesbrands shares tumbled as much as 19 percent to $17.92 in New York, their biggest intraday drop since 2009. Target fell as much as 2 percent to $79.03.