Genomes, Not Tobacco, Seen As Key to This Tech Player's Comeback
(Bloomberg) -- Singapore electronics contract manufacturer Venture Corp. has lost over a third of its market value in the last four months but its upcoming quarterly results could strengthen investor optimism that its customer base has grown more diverse and resilient.
Analysts said revenue growth at Singapore's biggest technology company is increasingly fueled by business from the medical and life sciences sectors and that this should dispel lingering concerns over its exposure to tobacco producer Philip Morris International Inc.
Venture shares are down 40 percent since April's all-time high of S$29.51 ($21.67), pummeled by disappointing first-quarter results and a short seller report that raised concerns over possible fallout from slower sales of Philip Morris' smokeless cigarette devices that the Singapore company is believed to be contracted to help make.
"Investors are too focused on Philip Morris and are expecting a decline in earnings in second quarter and beyond," said CLSA Ltd. analyst Horng Han Low, who has a buy rating on the stock with a target price of S$22.65.
Customers from the industrial Internet of Things space are also helping to drive a broadening of Venture's product offerings, he said.
Citing non-disclosure statements, Venture won't disclose the names of its customers but the company said in its 2014 annual report that it worked on a desktop genome sequencer for U.S. DNA-sequencing giant Illumina Inc., which posted better-than-expected earnings Monday and boosted its full-year forecast.
CLSA, which was voted as the most independent research house in Singapore in the Asiamoney Brokers Poll last year, sees Venture posting a 24 percent rise in second-quarter net income to S$87 million. Of that figure, CLSA sees only S$7 million generated by orders for Philip Morris' smoking device, also known as IQOS.
Venture stock trades at 11.9 times of its 12-month forward consensus earnings estimates, close to 1-standard deviation below its ten-year average, according to Bloomberg data.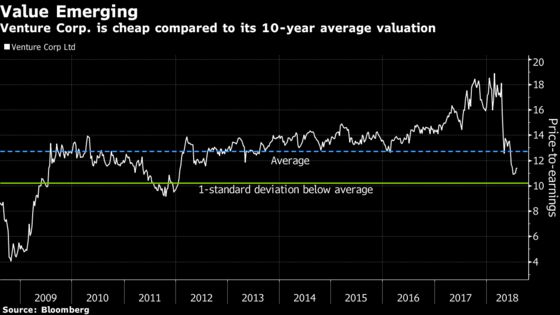 Jarick Seet, an analyst at RHB Research Institute Singapore Pte., said he doesn't expect "any negative surprises" when Venture announces its results on Aug. 3.
"The bottom line is lower IQOS orders seem to be priced in and investors will acknowledge that," said Seet, who has a buy on the stock.