Auto Sales Shrivel Amid First Cut in U.S. Discounts Since 2013
(Bloomberg) -- Automakers just paid the price for dialing back on discounts for the first time in 55 months.
Almost all major manufacturers reported declining U.S. deliveries for July, led by a 15 percent plunge at Nissan Motor Co. The industry tempered spending on incentives, snapping a streak of monthly consecutive increases that began 4 1/2 years ago, according to J.D. Power.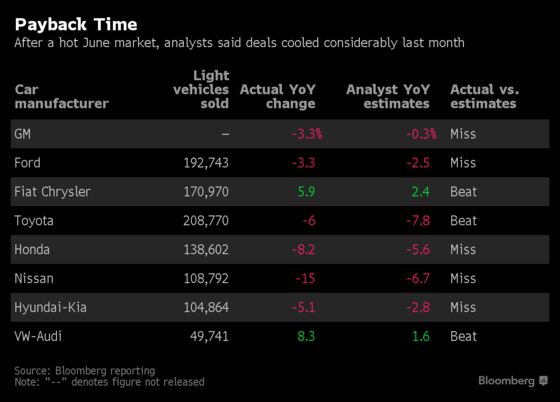 The sales reports capped a rough month for the auto industry, with each of Detroit's carmakers reining in their earnings forecasts and Ford Motor Co. saying it would restructure for as long as five years. The results reinforced fears that U.S. demand has peaked and that, without ever-higher sales incentives to keep consumers interested, deliveries will keep dwindling.
"The incentives we're seeing are more targeted," in part because inventories are lean, said Michelle Krebs, executive analyst for Autotrader. "They're not just slathered on."
General Motors Co.'s sales fell 3.3 percent last month, according to two people familiar with the matter. Lauren Langille, a spokeswoman for the company, which switched to reporting results only on a quarterly basis earlier this year, declined to comment.
Fiat Chrysler Automobiles NV was a rare bright spot in July, with a surge in Jeep sport utility vehicle sales fueling the Italian-American company's 5.9 percent jump.
Both of the automakers could have used some positive headlines. GM lowered its profit expectations last week largely because of rising commodity prices, which have jumped since President Donald Trump put tariffs on steel and aluminum. Jeep's surprisingly weak performance in China was a major reason Fiat Chrysler dropped its forecasts for the year.
Carmakers may have done their discounting early this summer and decided that enough was enough. The July results indicate some payback for promotions that fueled a better-than-expected close to the first half.
Underwhelming numbers from Nissan, Ford and Honda Motor Co. meant the annualized industry sales rate slowed to 16.8 million, from 17.2 million in June. The rate, which is adjusted for seasonal factors that the U.S. government restated this week, narrowly beat analysts' average estimate for 16.7 million cars and light trucks.
An incentive pullback is rare for this time of year, said Mark LaNeve, the head of U.S. sales for Ford, which was kneecapped by steep drops for the Escape crossover and Fusion sedan. The automaker also was running short of inventory for its highly popular F-Series pickups after a supplier fire disrupted production back in May.
"I don't ever remember a de-escalation from June to July, as you go into the traditional summer sell-down season," LaNeve said on a call with analysts. "June received much more benefit than July in terms of the Fourth of July business."
One reason for the pullback is that it's getting more expensive to offer incentives that are tied to loans. The Federal Reserve hiked interest rates three times last year, twice this year and has signaled it will bump them up two more times in 2018. That makes subsidized interest rates more expensive to offer.
"The summer is usually a time for manufacturers to roll out the deals and clear out the inventory," said Edmunds analyst Jeremy Acevedo. "But interest rates are peaking right now. It's getting more expensive to offer these deals."
Fiat Chrysler shares declined 2.2 percent, while GM fell 2 percent and Ford dropped 1.4 percent in New York trading.
Another issue, said Charlie Chesbrough, senior economist for Cox Automotive, is that while automakers are pulling back on new-vehicle incentives, there are great deals on used-car lots. Returns of vehicles that have been leased are on the rise, and that added supply gives consumers more choice of lower-priced alternatives to new models.
"There is such tremendous competition from the used-car market," Chesbrough said in a phone interview. "We have so many off-lease vehicles coming back to market and they are cheaper than new cars."