China Tower Raises $6.9 Billion in IPO Priced at Low End
(Bloomberg) -- China Tower Corp., the state-owned wireless infrastructure owner, raised $6.9 billion after pricing its Hong Kong initial public offering at the low end of a marketed range, people with knowledge of the matter said.
The Beijing-based company sold 43.1 billion shares at HK$1.26 apiece in the IPO, the people said, asking not to be identified because the information is private. The shares were marketed at HK$1.26 to HK$1.58 each, according to an earlier exchange filing.
China Tower is the second high-profile Hong Kong IPO to price at the low end in recent weeks, following smartphone giant Xiaomi Corp., as fears of a global trade war hurt risk appetite. The benchmark Hang Seng Index is down about 15 percent from its January all-time high, and the city's retail stock buyers have lost much of their enthusiasm for new listings.
"The market continues to be very volatile," Hao Hong, head of research at Bocom International Holdings Co. in Hong Kong, said by phone Wednesday. "Because of the unpredictability of Mr. Trump, people are finding it very difficult to figure out which sectors have been priced in and by how much."
The IPO of China Tower is set to become world's biggest first-time stock sale since Postal Savings Bank of China Co.'s $7.6 billion offering in 2016, according to data compiled by Bloomberg. The company, which is the world's largest telecom tower operator in terms of revenue, expects to begin trading Aug. 8, its prospectus shows.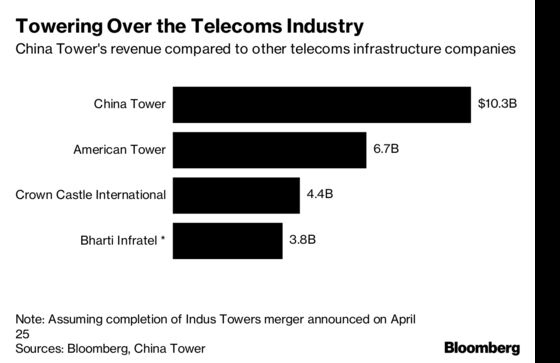 A Hong Kong-based external representative for China Tower said she couldn't immediately comment.
China Tower was formed by combining tower assets of China Mobile Ltd., China Unicom Hong Kong Ltd. and China Telecom Corp. in 2015 as part of a broader plan to reform the nation's state-dominated wireless industry. Ten cornerstone investors including Hillhouse Capital, Och-Ziff Capital Management Group LLC and Alibaba Group Holding Ltd. agreed to buy a combined $1.4 billion of shares in the IPO.
The company plans to use 60 percent of the proceeds for capital expenditure plans, which include building new towers and improving existing sites. Another 30 percent will go toward repaying bank loans, while 10 percent will be set aside for working capital, according to the prospectus.
China International Capital Corp. and Goldman Sachs Group Inc. are joint sponsors of the deal.