Australia House Prices Fall the Most in 7 Years
(Bloomberg) -- Australia's property slump deepened in July, with housing prices falling the most in almost seven years.
National dwelling values dropped 0.6 percent last month -- the biggest fall since September 2011 -- as declines in Sydney and Melbourne accelerated, according to CoreLogic Inc. data released Wednesday. Prices have now fallen for 10 straight months due to a combination of lending curbs, stretched affordability and reduced investor demand.
As well as little prospect for capital growth in the medium term and higher mortgage costs, investors also face falling rents, which declined 0.2 percent nationally last month, according to CoreLogic.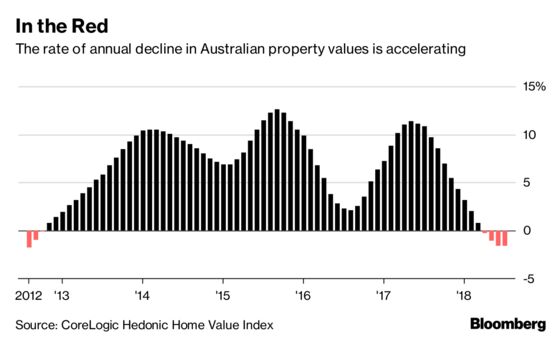 "We can't see any factors that may halt or reverse the housing markets' trajectory of subtle declines over the second half of 2018," CoreLogic's head of research Tim Lawless said. "The availability of housing credit has been a significant factor contributing to this slowdown."
Nationwide, housing values have fallen 1.9 percent since peaking in September, though remain 31 percent higher than they were five years ago.