Activists Renew Push for Thyssenkrupp Overhaul After Profit Miss
(Bloomberg) -- Thyssenkrupp AG's poor earnings is renewing pressure from activist investors that the company needs a radical restructuring.
Cevian Capital AB, the second-largest shareholder, blamed an overly complicated business structure for Thyssenkrupp's weak performance, and said the company needs to find "the right structure" to be competitive. Thyssenkrupp cut its profit forecast late on Tuesday, triggering a drop in the share price.
"Thyssenkrupp's recent profit warning highlights once again that the existing structure has grown too complex, and that the conglomerate strategy is responsible for the company's long-standing underperformance," said Lars Forberg, a partner at Cevian, in a statement seen by Bloomberg News.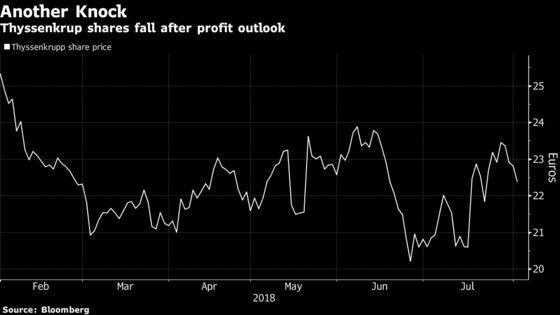 Thyssenkrupp is in the middle of a fight with its activist investors who are calling for a restructuring at the German conglomerate to reduce costs and boost profits in businesses that have long underperformed. In the past month, both the chief executive officer and chairman have left, throwing the company into turmoil and giving activist investors the momentum to push for more sweeping changes.
The shares slid as much as 4.3 percent in Frankfurt and later pared losses to 1 percent in the afternoon.
Other German companies like Bayer AG and Siemens AG have benefited from spinoffs and have become more "entrepreneurial and nimble," Cevian wrote in the statement.
It's still unclear what changes Thyssenkrupp may pursue, and until there's a new CEO, the strategy will be in doubt. Speculation surfaced in the past month that the company could be headed for a break up, but the idea faced opposition from labor representatives, management and German politicians, who argue in favor of keeping the conglomerate structure.
Cevian moved to assuage those fears on Wednesday, saying now is the time to "enter discussions for a successful transition and where the justified interests of Thyssenkrupp's employees need to be fully considered."
Late on Tuesday, Thyssenkrupp said earnings before interest and taxes will be about 1.8 billion euros for the current fiscal year, the low end of a previous estimate. It cited cost overruns and slower sales at its industrial unit. Plant construction and shipbuilding costs will contribute to an expected adjusted loss before interest and taxes for the third quarter, the company said.
The lowered profit forecast signals that Thyssenkrupp's industrial services unit is in "deeper trouble" than previously thought, said Christian Obst, director of equity research at Baader Helvea.
"This news may be the nail in the coffin for TKA's conglomerate structure," Seth Rosenfeld, an analyst at Jefferies LLC, said in a note. "This gives increasingly vocal activist investors all the ammunition they could ask for in pushing for change."