U.S. Gives Rusal Investors More Time But Keeps Deripaska on Hook
(Bloomberg) -- The U.S. Treasury Department gave investors more time to sell their shares and debt in En+ Group Plc and affiliate, United Co. Rusal, but stopped short of removing the aluminum and power companies from a sanctions list targeting Russian billionaire Oleg Deripaska.
The deadline for investors to sell their shares and debt in En+ and Rusal was extended to Oct. 23 from Aug. 5, the Treasury's Office of Foreign Assets Control, or OFAC, said in a statement on Tuesday. The decision suggests further negotiations are needed before making progress on lifting sanctions, after OFAC shunned a request by En+ and its lobbyist Mercury LLC to temporarily withdraw the company and Rusal from the list.
Deripaska agreed in April to cut his stake in En+ to less than 50 percent from 66 percent currently and to appoint a majority of independent directors to the company's board as part of a plan to persuade the U.S. to lift sanctions. Three months after announcing the plan, however, the company hasn't publicly identified any potential independent directors, nor any buyer for Deripaska's shares.
"This is mildly positive move as it indicates that the U.S. Treasury is ready to talk to Deripaska in general, so there are chances to agree on the terms later," said Kirill Chuyko, head of research at BCS Global Markets in Moscow.
On the other hand, the latest Treasury decision means the uncertainty on the aluminum market will remain until at least the end of October, and Rusal will face issues with selling semi-finished metal. It is more complicated and expensive than standard aluminum ingots, needs more time to be produced and Rusal clients have no guarantees it will be able to deliver pre-paid semi-finished metal after October.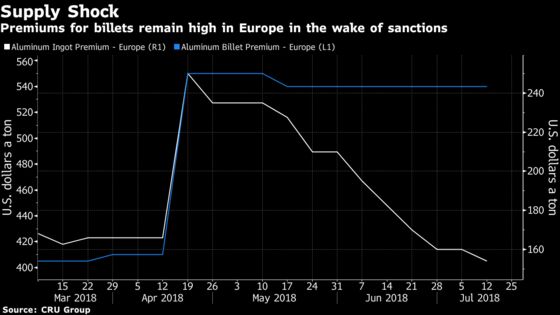 The U.S. penalties against Rusal, the world's largest producer outside China, initially disrupted the global supply chain for the metal and sent prices soaring. The Treasury earlier set the deadline for winding down operations with the company at Oct. 23, which is now the deadline for selling out too.
According to Mercury's filing to the U.S. Justice Department, which is dated July 12, En+ has identified potential new directors. It also suggests that Deripaska and his family members are planning to transfer shares to a trust to reduce his stake to less than 50 percent.
Valentin Yumashev, President Vladimir Putin's aide, and his daughter Polina, whom Deripaska married in 2001, were also disclosed as shareholders in En+ by Jersey Financial Services Commission in February. Yumashev owned 10 million shares, or about 1.8 percent of En+, while Polina held about 33 million shares, or about 6 percent.
Finally, as part of the plan, a loan from VTB Group would be "discharged," according to Mercury's filing. VTB also has a 9.6 percent equity stake in En+. The company's sanctions relief plan envisages those shares being voted by an independent person, according to the filing.
Rusal shares declined as much as 2.6 percent in Hong Kong on Wednesday, while the price of aluminum dropped 0.5 percent on the London Metal Exchange as of 8:46 a.m. U.K. time.
En+'s press service declined to comment.