Trader-Turned-Informant Tied to Waste Stock That Surged 1,500%
(Bloomberg) -- Three tiny stocks that went haywire in the past month have one thing in common: a former FBI informant.
Shares of Avalon Holdings Corp., New Concept Energy Inc. and MER Telemanagement Solutions Ltd. skyrocketed and then dropped around the time that MintBroker International Ltd. revealed stakes in the firms, all of which have market values of less than $30 million.
MintBroker is a Bahamas-based broker dealer founded in 2011 by Guy Gentile, according to a lawsuit filed by the trader-turned-informant earlier this month. Gentile began working as an informant in 2012 after the FBI said he orchestrated two pump-and-dump schemes that suckered investors out of $17 million.
Wearing a wire, he gathered information that led to the arrest of a corrupt lawyer, a market-manipulating high-frequency trader and other financial crooks. The Justice Department brought charges against him in 2016, but the case was dismissed because prosecutors waited too long to file it. A related Securities and Exchange Commission lawsuit was also tossed out due to the statute of limitations, although the agency has appealed. Gentile has said he did nothing wrong.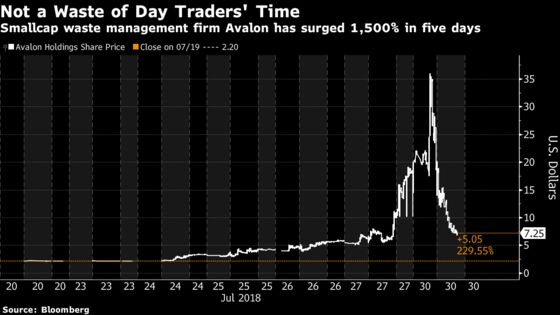 Avalon, a Warren, Ohio-based waste management company, has had a wild few weeks. It closed at $2.20 last Monday, then surged four straight days to $10.25 as of Friday's close. That's when MintBroker's stake was unveiled in a regulatory filing. On Monday, the stock got as high as $36 in premarket trading -- more than 1,500 percent higher than last Monday's close -- before cratering to less than $7 by Monday afternoon.
Avalon said in a statement Monday that it's not affiliated with MintBroker and "has no information about that entity's intentions regarding its holdings." It also said its chief executive officer has 67 percent of voting power and doesn't plan to divest his stake.
"This is no pump-and-dump scheme," Gentile, chief executive officer of MintBroker, said over the phone. "We were going to try to do a hostile takeover of the company."
New Concept Energy spiked a month ago. Shares of the Dallas-based energy explorer rallied 145 percent on June 29. MintBroker's stake emerged after the close that day, and the stock increased another 111 percent during the next trading session. Then, it tumbled after Gentile's firm sold off its holding.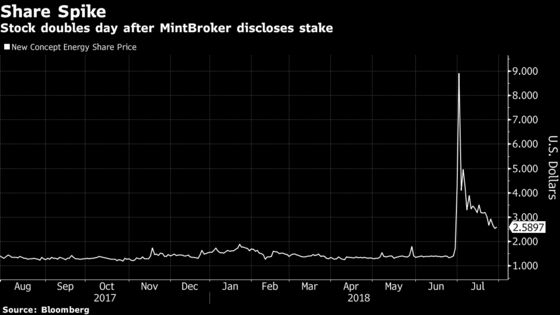 "We were interested in taking the company over to potentially reverse merge my other companies into," Gentile said. "We weren't able to acquire enough shares in the open market at a reasonable price for that deal to make sense so we bailed on the deal."
Shares of MER Telemanagement jumped nearly 150 percent to close at $2.73 on July 10. MintBroker publicly disclosed two days later that it had bought and sold a stake in the Israeli telecommunications firm. The shares now fetch less than $2.30.
Representatives from Avalon, New Concept Energy and MER Telemanagement didn't respond to calls and requests seeking comment. The SEC declined to comment.