Thomas Cook Hit by Heatwave as North Europeans Shun Beach Trips
(Bloomberg) -- Thomas Cook Group Plc said unusually hot weather is making its north European customers far less enthusiastic about booking last-minute beach holidays, weighing on the tour operator's earnings.
Summer bookings for the U.K. company's package breaks were unchanged from last year through July 21, compared to a 3 percent gain through May, according to a statement Tuesday, indicating a fall-off in sales. Full-year operating profit is now expected to be at the lower end of the 323 million pounds to 355 million pounds ($425 million to $467 million) estimated by analysts.
"The sustained period of hot weather in June and July has led to a delay in customer bookings," Chief Executive Officer Peter Fankhauser said, adding the trend has hampered the group's ability to raise margins by selling its more-highly priced last-minute trips.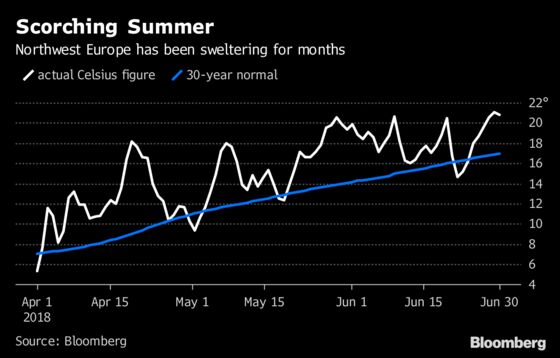 Thomas Cook shares fell 5 percent before rebounding to trade 3 percent higher as of 10:48 a.m. in London amid relief that annual earnings will still fall within the forecast range, Morgan Stanley analyst Jamie Rollo said in a client note.
The first half of the summer has been marked by record temperatures across large parts of Europe, according to the World Meteorological Organization, with 2018 "shaping up to be one of the hottest years on record." The heatwave has brought a Mediterranean climate to Scandinavia, the U.K. and Germany, where most of Thomas Cook's holiday-goers are based.
Fankhauser also confirmed that the group is open to a possible deal for its airline operations, but said it has no current plans to sell the business.
"We consistently said we want to be open to play a part in a possible consolidation in the European market," he said on a call with analysts. "In principle whatever we may do has to make sense for our business. As a holiday company we need reliable access to an efficient airline. That is paramount."
Overall bookings across the group rose 11 percent, with the average selling price falling 3 percent due to sales of lower-yielding trips.