Shopify Just Isn't Growing the Way It Used To
(Bloomberg) -- Shopify Inc. shares tumbled after the company, which helps small businesses set up and manage their online stores, said growth in overall sales on its platform was slowing.
The Ottawa-based firm has been a Canadian tech darling for years and its stock, which had gained almost 50 percent so far in 2018 through Monday, hit a record high earlier this month. That has left the company vulnerable to any signs of weakness and some cracks appeared in the second-quarter results.
While the company beat analyst's average estimates for revenue and profit and gave an outlook for the rest of the year that was in line with projections, growth in gross merchandise volume, the total amount of sales made by all the vendors on Shopify's platform, slowed for the third consecutive quarter.
The U.S.-traded shares fell 5.2 percent to $140.40 at 9:44 a.m. in New York. They reached a high of $173.78 on July 25.
"With Shopify putting up guidance quarter over quarter ever since they went public, the bar is probably higher than it has been in the past, which might explain how the stock has reacted,"' said Nikhil Thadani, an analyst at Mackie Research Capital Corp.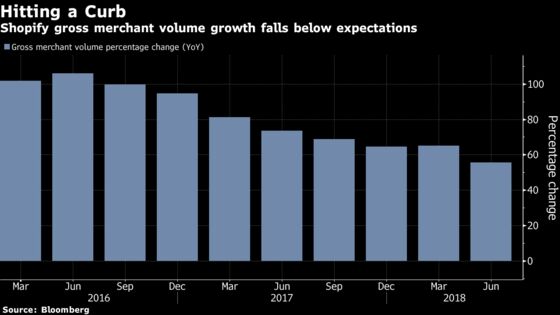 Analysts have been taking a harder look at what's driving Shopify's expansion and how much of its revenue is being generated from larger, more stable merchants rather than lower-paying and more precarious ones. Shortseller Andrew Left of Citron Research has said that once Shopify churns through enough people, there won't be many left to keep up the pace.
The company itself has warned growth has its limits, and key metrics like gross merchant volume are beginning to show that. GMV was $9.1 billion in the second quarter, or 56 percent more than the same time last year. Still, that growth rate is significantly lower than the 64 percent the company reported in the first quarter of this year.
Chief Financial Officer Amy Shapero, who joined the company in April, pushed back against analysts' questions about growth during a conference call.
"We're confident in our overall business model to continue to produce growth," she said "That's what allowed us to increase our revenue forecast for the entire year."
Revenue was $245 million in the period ended June 30, the Ottawa-based company said in a statement Tuesday. That compares with the average analyst estimate of $234.9 million, according to data compiled by Bloomberg. Earnings, excluding some items, were 2 cents, while the estimate was for a loss of 3 cents. Shopify said full-year revenue would be $1.02 billion to $1.03 billion, in line with estimates.