Ralph Lauren's Asian Appeal Buoys Sales as Home Market Sags
(Bloomberg) -- Ralph Lauren Corp. is coming back in style, at least in Asia.
A rebound is underway at the preppy fashion company, which reported first-quarter same store sales in Asia that were more than double what analysts had expected, helping drive the shares up as much as 8.8 percent on Tuesday. Asian comparable sales for online shopping soared 46 percent.
Still, the fashion house has struggled to regain its footing in North America, where same-store sales were down 3 percent in constant currency, with both brick-and-mortar and online sales logging a decline. That's better than the 4.4 percent drop analysts predicted but still a sign more work's ahead in the brand's home market.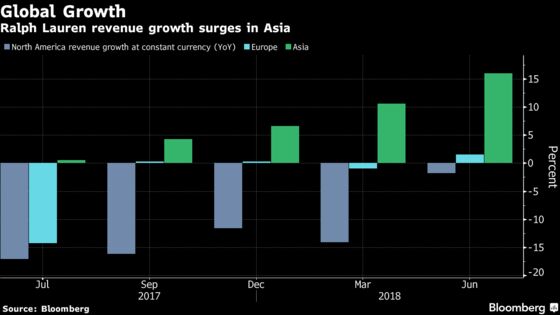 In the U.S., the label's appeal weakened as shoppers flocked to cheap fast-fashion lines, which offer on-trend items that constantly change. Ralph Lauren, meanwhile, hopes to succeed by setting the trends and creating enduring styles it can bank on for years.
Chief Executive Officer Patrice Louvet has been working to revitalize Ralph Lauren at home by reducing inventory, offering fewer discounts and withdrawing some product from department stores. Clothing items that aren't vital to that effort are being eliminated as the brand goes back to basics. Same-store sales globally fell 3 percent on a constant currency basis, even as they rose 6 percent in Asia, outpacing the 2.3 percent gain analysts had been expecting in the region.
Shares rose as high as $147.79. The stock had gained 31 percent this year through Monday's close.
To fuel a turnaround, executives are pushing new versions of classic styles, such as peacoats, military jackets and polo shirts, now infused with new technical functionality and updated fabrics to draw back customers. Men's polo shirts saw double-digit growth for the quarter as Ralph Lauren pumped investment into one of its most well-known styles and increased marketing spending for its polos this spring by about 20 percent.
On Monday, the company said it will no longer use mohair in its products after an animal-rights investigation into the treatment of angora goats.
Earnings amounted to $1.54 a share, excluding some items, compared to the average estimate of $1.36. Revenue was $1.39 billion. Analysts had projected $1.36 billion.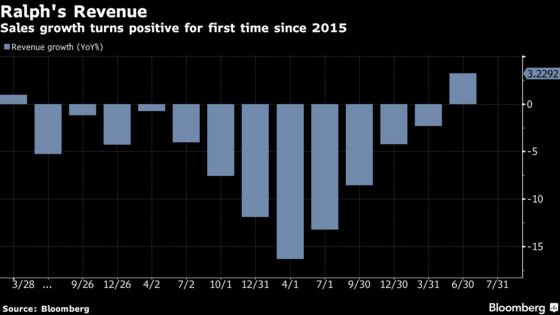 Questions about Ralph Lauren, the designer, and his rocky relationship with his CEOs have been largely settled since the departure of the previous top executive Stefan Larsson. He clashed with the founder and left after less than two years on the job. Lauren gave a vote of confidence to Louvet, a former Procter & Gamble Co. beauty executive, on a conference call in May, assuring analysts and investors that they have a "strong partnership."
"I continue to be inspired and energized by the passion our teams have for our brand and our company," Executive Chairman Lauren said in a statement Tuesday. "This passion along with Patrice's partnership over the last year, the clear plan he and the team laid out in June, and the initial progress in this quarter, give me confidence in our future as we celebrate 50 years in business."