Pfizer Raises Profit Forecast Amid Pressure on Drug Prices
(Bloomberg) -- Pfizer Inc. increased its full-year earnings outlook, a sign of relative confidence in profitability amid weaker revenue and pressure on drug prices from the Trump administration.
The New-York-based drugmaker now sees earnings of $2.95 to $3.05 a share, excluding some items, after its second-quarter profit beat Wall Street estimates. Analysts anticipated $2.95 for the full year, on average.
Pfizer's recent decision to delay price increases had raised questions about the eventual impact on future growth. The company has been in the spotlight after being singled out by President Donald Trump, who said Pfizer should be "ashamed" of its price hikes. Other drugmakers followed suit in freezing increases, and Sanofi's chief financial officer said Tuesday that the "easy life" of an industry that had been counting on rising prices in the U.S. to make profits are are over.
On the profit front, Pfizer got a boost from Trump's policies. The drugmaker is benefiting from the corporate tax cut signed into law in the U.S. at the beginning of the year. The drugmaker expects an adjusted tax rate of 16 percent, down from 17 percent earlier. The company attributed its lowered sales outlook to foreign exchanges, joining other global health companies that have cited the strong dollar, including Johnson & Johnson.
Pfizer shares rose about 1 percent to $38.98 as of 10:02 a.m. in New York following the results.
Read More: Pfizer second-quarter results and 2018 forecast
The company's strong quarter was driven by the division that sells newer drugs. Blood thinner Eliquis sales topped analysts' estimates, while its Prevnar vaccine franchise and blockbuster cancer treatment Ibrance both were in line. Total sales for the second quarter rose 4 percent $13.5 billion, topping predictions by analysts.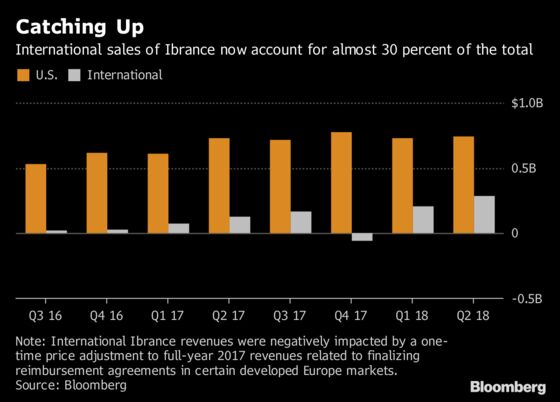 The newer drugs offset a sales decline in the unit that sells older medicines, including a drop in sterile injectibles. Pfizer blamed product shortages in its Hospira division, which has been mired with manufacturing issues.
Global drugmakers had until now been regularly increasing the cost of some of their medicines in the U.S. Other companies that followed Pfizer in freezing price hikes in the county include Novartis AG and Eli Lilly & Co. Merck & Co. said it would lower prices for some products.