Oil Drives Canada's Fastest Economic Growth Spurt in a Year
(Bloomberg) -- Canada's economy grew at the fastest pace in a year, further evidence of a solid expansion even as trade tensions with the U.S. remain a threat.
Gross domestic product increased by 0.5 percent in May, Statistics Canada said Tuesday from Ottawa, exceeding expectations for a 0.3 percent gain in a Bloomberg survey of economists. Oil was a key driver, with non-conventional crude output jumping 5.3 percent as more production came back online after shutdowns. Nineteen of 20 industries showed gains, including retail sales rising 2 percent on the heels of weakness in April linked to cold weather.
The world's 10th largest economy is now on track for annualized growth of around 3 percent this quarter, keeping the pressure on the Bank of Canada to consider raising interest rates again to keep inflation in check. The Canadian dollar strengthened as much as 0.4 percent after the report and was little changed at C$1.3036 per U.S. dollar at 9:34 a.m. in Toronto.
"Barring bad news on the Nafta or auto tariff front, the Bank of Canada will be raising rates in October," Avery Shenfeld, chief economist at Canadian Imperial Bank of Commerce in Toronto, wrote in a research note.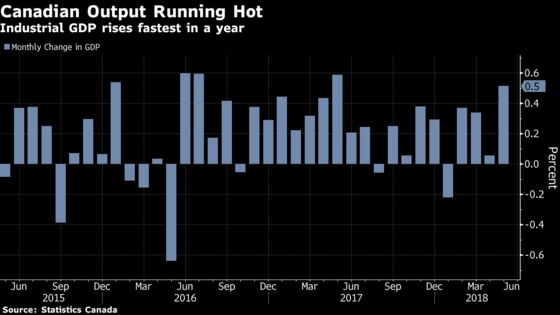 Canada's economy has gained momentum after a weak first quarter with consumer spending supported by a strong labor market and some companies boosting investment as they reach capacity limits. U.S. demand is also factor, with the American economy growing at a 4.1 percent clip -- the fastest since 2014.
"A very solid quarter is possible and that's consistent with what we saw out of the U.S.," Benjamin Reitzes, a Canadian rates and macro strategist at BMO Capital Markets, said by phone from Toronto. "When the economy is already at capacity it doesn't take much to brew inflation even more."
Both Reitzes and Shenfeld said Canada's economy could grow by about 3 percent in the second quarter.
Investors are putting a one-in-five chance on another rate increase at the Bank of Canada's next meeting in September, with odds increasing to two-in-three for a move in October. Central bank policy makers raised interest rates this month for the fourth time in a year and said more increases may be needed in a fairly tight economy.
The growing trade fight with the U.S. is, however, a wild card. President Donald Trump's policies are threatening the North American Free Trade Agreement and ratcheting up pressure on other Canadian industries, including lumber and uranium. The uncertainty is holding back some new investment and curbing exports.
Companies with strong ties to exporting nevertheless posted increases in May. Transportation and warehousing climbed 0.4 percent and manufacturing was up 0.1 percent.