Nintendo Rallies Most in 10 Months as Software Boosts Profit
(Bloomberg) -- Nintendo Co. reported quarterly earnings that topped profit estimates, as higher software sales online made up for weaker shipments of the Switch console.
Shares of the Japanese gaming company jumped 6.4 percent in Tokyo, the biggest one-day gain since September. Trading volume on Wednesday was more than twice the average over the past month.
Nintendo reported operating profit of 30.5 billion yen ($274 million) in the June quarter, topping analysts' average projection for 25.6 billion yen. Revenue was 168 billion yen, short of the average estimate for 186.9 billion. The Kyoto-based company maintained its full-year forecasts for profit, hardware and software sales.
The mixed results are the latest twist for Nintendo, which has gone from one of Japan's hottest stocks to a target for short-sellers — wiping out its gains in the past year. But with Switch software shipments holding up, it gives new President Shuntaro Furukawa the chance to focus on the launch of its highly-anticipated online game service in September. The Switch, a hybrid console that can be used at home or on-the-go, is Nintendo's biggest bet in years.
"Switch hardware sales lack momentum, but the platform's software is starting to drive earnings," Goldman Sachs Group Inc. analyst Masaru Sugiyama wrote in a report after the earnings release. "Titles launched in previous years continue to sell and the quarterly performance reflected a high profit contribution per console within the installed base."
Nintendo sold 18 million Switch software titles, up from 8.1 million last year. It sold 1.9 million hardware units in the June quarter, slightly less than the 2 million seen a year earlier. Switch owners on average each bought 0.9 games during the quarter, down from 1.7 last year.
"The hardware penetration of Nintendo Switch contributed to the sharp rise in software sales, including sustained strong sales of existing titles" from last year and new titles from this year, Eiji Maeda, an analyst at SMBC Nikko, wrote in a report.
The company cited "especially good growth" in digital sales through the Switch's online store, which has a higher profit margin than cartridges sold in stores. Digital sales jumped by 68 percent from a year ago to 18.5 billion yen. They accounted for 11 percent of total revenue, double the ratio in December 2016, before the Switch went on sale.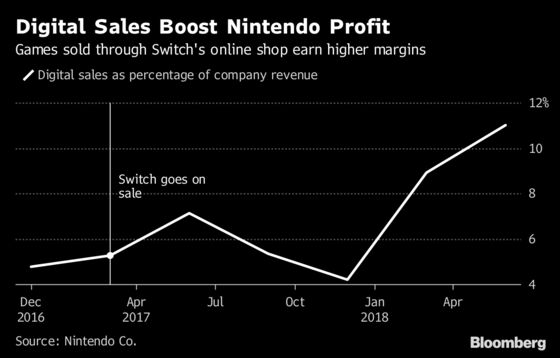 Concern over slowing software sales had been a key reason why shares have slumped, dropping as much as 27 percent since May after Nintendo unveiled a lackluster lineup at this year's Electronic Entertainment Expo. The latest results indicate those worries may have been overblown. The company has two big Switch titles for the all-important holiday season: a Pokemon spinoff game in November and the latest installment in fighting series Super Smash Bros. in December.
"The overall impression is pretty good," said Hideki Yasuda, an analyst at Ace Research Institute. "But the question is if they can keep software sales going, which is critical for profits."
Nintendo sold 1.4 million Labo units during the quarter, meaning just 7 percent of Switch owners bought the new cardboard products. Introduced in mid-April, the goal was to promote more physical gameplay while appealing to families and children. Instead, many found the build-it-yourself Labo kits difficult to assemble and its games lacking engaging features to keep kids coming back.
Revenue from smartphone games was 9.1 billion yen in the quarter, unchanged from a year earlier. New role-playing title Dragalia Lost, co-developed with CyberAgent Inc., will be released "this summer," the company announced in April. It has yet to provide details or a release date for mobile racing title Mario Kart Tour, which was announced in February.