Lufthansa Fare Gains to Support Earnings as Fuel Costs Rise
(Bloomberg) -- Deutsche Lufthansa AG reassured investors that cost cuts and higher fares will help it reach full-year targets after disruption from storms and air traffic control strikes hurt second-quarter earnings.
The shares rose the most in 21 months after Lufthansa reported profit that fell less than analysts had feared, despite a rising fuel bill and increased expenses from integrating parts of former rival Air Berlin Plc.
Lufthansa has suffered service cancellations and delays amid flight-control walkouts in southern Europe and extreme weather spurred by heatwave conditions at home, which together shaved 80 million euros ($94 million) from first-half numbers. Still, the German company stood by a prediction that full-year earnings will fall only "slightly."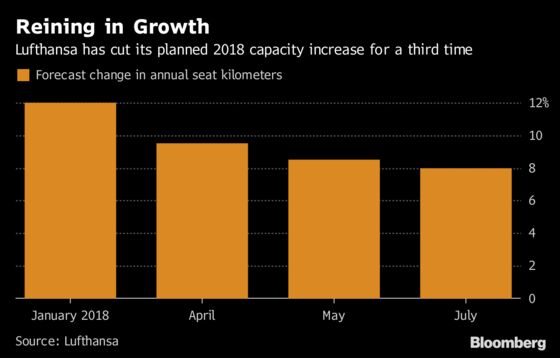 Shares of Lufthansa rose as much as 8.5 percent, the most since Oct. 20, 2016, and were trading 8.3 percent higher at 24.02 euros as of 12:31 p.m. in Frankfurt, paring their decline this year to 22 percent.
Fuel expenses will be 250 million euros higher than previously forecast, while costs from the Air Berlin integration will amount to about 170 million euros, Lufthansa said, though the burden should ease off in the third quarter.
Higher fares charged for North Atlantic flights helped to offset those pressures in the second quarter, with bookings for the current three months -- the busiest for European airlines -- confirming the positive trend.
Lufthansa's guidance "confirms the more positive commentary we have heard to date on pricing from the sector as a whole," Goodbody Stockbrokers analyst Mark Simpson said in a note. Shares of British Airways owner IAG SA, which reports Friday, rose as much as 2.5 percent.
Short-haul fares are meanwhile being spurred as an industry shakeup removes capacity, with U.K.-based Monarch also folding last year, Norwegian Air Shuttle ASA targeted by takeover bids and Italy pondering plans for Alitalia SpA.
At the same time, the exit of Air Berlin means Germany is also attracting more flights from discount carriers including Ryanair Holdings Plc eager to tap newly vacant markets. Lufthansa cut planned capacity increases for the year for a third time in a move that should help further support pricing.