Junk Bonds Are Treasures When No One Is Borrowing
(Bloomberg Opinion) -- For bond investors in 2018, the junkier their investments, the better their total returns. The only question is when — not if — the tide turns against them.
During a year in which fixed-income investors have lost money at just about every turn, high-yield debt has proved to be a reliable sanctuary. The broad market for U.S. junk bonds has gained about 1.2 percent this year, almost entirely thanks to a rally over the past month. By contrast, investment-grade corporate bonds have tumbled 2.6 percent year-to-date, while Treasuries have declined 1.6 percent and mortgage-backed obligations have dropped 1.2 percent.
It would be tempting to chalk this trend up to a strong economy. And perhaps that's part of it. Default rates remain low and are expected to remain that way over the next year, supporting risk-taking investors willing to lend to more troubled borrowers. And with the Federal Reserve tightening monetary policy, more interest-rate sensitive securities are prone to taking a beating. 
But that hardly explains why high-yield bonds lost 0.86 percent in the first quarter — the steepest decline since late 2015. Treasury yields soared during the period while U.S. equities hit an all-time high. And it's not as if the market had to contend with a wave of defaults, either.
So, what has changed since then? It all boils down to supply. Namely, so few lower-rated companies are borrowing that it's propping up an otherwise vulnerable market.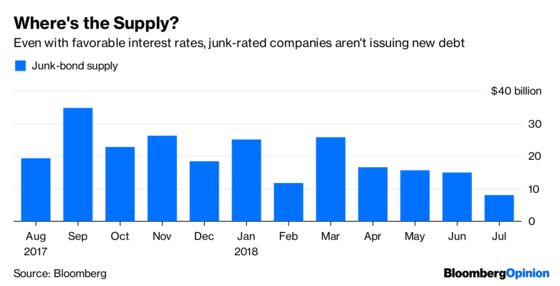 Bloomberg News's Gowri Gurumurthy calls the lack of supply "the dominating trend in the junk bond market." Second-quarter issuance slumped to the lowest level since 2010, at just $47.4 billion, while this month is just about the slowest July since 2008. Borrowing has been below the five-year average in each month since February.
With that sort of support, just about any segment of the debt market would hold its ground. So it's telling, then, that junk bonds posted their lowest first-half returns since 2008 even with investors scrambling to find securities to purchase. The 1 percent gain in July is nice, but it's still the smallest for the month since 2015. Simply put, it's hard to make a case that high-yield bonds would be a top performer without the supply shortfall holding them up.
Morgan Stanley strategists summed up the risks with a note titled "Don't Trust the SuCCCess." That's referring to corporate bonds rated CCC, or seven to nine steps below investment grade, which have gained an impressive 4.4 percent this year. Aside from even more deeply distressed issuers, like PetSmart and Puerto Rico, no other fixed-income investments in the world have earned so much in 2018.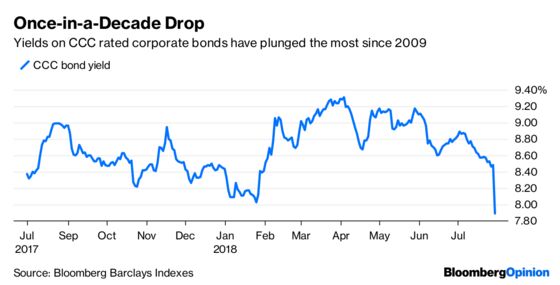 The strategists say those bonds are vulnerable because the current pricing suggests minimal volatility and a slow pace of defaults in the next five years. Just this week, the average CCC yield fell 59 basis points, the most since 2009, to 7.89 percent. The spread is now the tightest in four years.
Goldman Sachs Group Inc. is similarly wary. Chief credit strategist Lotfi Karoui says there's room for yield spreads to tighten in 2018 in just about every credit market except U.S. high yield. He prefers investment grade, emerging markets and leveraged loans. 
To top it all off, the amount of debt teetering on the brink of junk is rising. As I wrote last month, bonds with the lowest investment grades are saddling investors with losses because the number of companies willing to take themselves down to BBB has ballooned. Some investors see a risk that they deteriorate even further, becoming "fallen angels" that saturate the high-yield market and spark a broad sell-off.
Perhaps the most surprising part of all this is that mutual fund investors aren't getting drawn in by the outperformance. High-yield bond funds have experienced outflows for nine of the 10 weeks through July 25, according to EPFR Global data. Typically, an asset class doesn't thrive in that sort of environment. But the supply drought appears to be offsetting the redemptions.
If issuance eventually returns to more normal levels, it's hard to conceive of a scenario in which high-yield returns remain so strong. It's true that on occasion, bond market supply begets demand. And it's certainly possible that with the benefit of much larger interest payments, junk debt will continue to outpace its higher-quality counterparts, at the very least. 
But unless the U.S. economy has an even stronger several quarters ahead, and conditions remain as perfect as they have lately, highflying junk bonds are most likely to come back down to Earth.
This column does not necessarily reflect the opinion of the editorial board or Bloomberg LP and its owners.
Brian Chappatta is a Bloomberg Opinion columnist covering debt markets. He previously covered bonds for Bloomberg News. He is also a CFA charterholder.