Indonesian President Calls for Steps to Attract More Dollars
(Bloomberg) -- Indonesia will expand the use of biodiesel as President Joko Widodo explores options to boost foreign-exchange earnings and contain a ballooning current-account deficit in Southeast Asia's biggest economy.
Widodo, known as Jokowi, will soon sign a revised presidential decree that widens the palm-biodiesel mandate to more users from August, potentially saving $5.5 billion annually in crude oil imports, according to Coordinating Minister of Economic Affairs Darmin Nasution. The president also ordered his ministers to identify new ways to boost exports and shore up foreign reserves.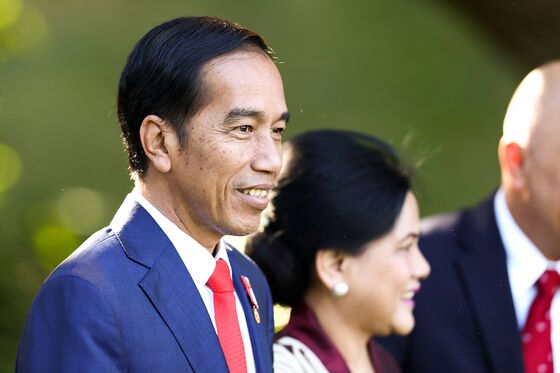 "The country's situation is that it needs dollars," Jokowi told ministers at the start of a cabinet meeting held in Bogor, near Jakarta on Tuesday. "Therefore, I ask every ministry and institution to be serious in dealing with this."
Jokowi's government is grappling with an emerging-market selloff and a deteriorating current-account deficit that's set to swell to the highest in four years. The rout prompted the central bank to hike its benchmark interest rate by 100 basis points since mid-May and to drain about $12 billion from its reserves since it reached a record in January to partly defend the currency.
The government has been looking at various ways to boost dollar inflows, including through tourism and by encouraging exporters to repatriate their greenback holdings and convert them into rupiah.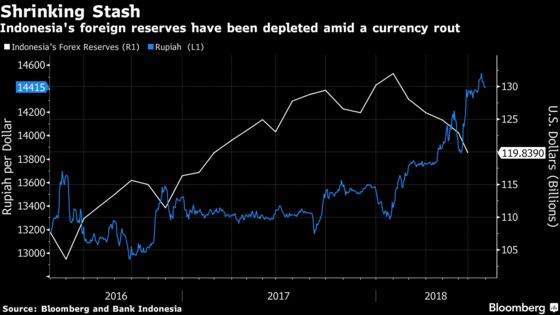 The government had previously asked the transportation industry to use fuel blended with 20 percent palm-based biofuel, or B20, with plans to expand the mandate to railways, military and mining vehicles this year. The government plans to launch the expanded B20 program in early August, Darmin told reporters on Tuesday.
Click here to read about details about Indonesian biodiesel mandate
Jokowi also urged ministers to remove obstacles to trade and for imports to be curbed wherever possible to save dollars. Increased use of locally produced components in manufacturing can save about $2 billion annually, according to Industry Minister Airlangga Hartarto.
While the government had toyed with the idea of scrapping a rule that mandates coal miners to supply the domestic market at a fixed price, it won't proceed with the proposal immediately, Mineral Resources Minister Ignasius Jonan said. The domestic market obligation is mandated by a 2009 mining law and the cap on the price of domestic coal for power stations of $70 per ton will remain in place, he said.
Foreign investors have pulled a net $3.7 billion from bonds and stocks this year as the rupiah weakened almost 6 percent against the dollar, according to data compiled by Bloomberg. The current-account deficit is seen widening to about $25 billion this year, or about 3 percent of gross domestic product, according to Bank Indonesia Governor Perry Warjiyo.
The central bank is focused on maintaining economic stability and rupiah in the short term amid rising risks from higher U.S. interest rates and global trade war, Warjiyo told reporters on Tuesday. Bank Indonesia will strengthen its monetary policy mix to lure investors and will continue to stabilize rupiah in line with fundamentals, he said.