High-Yield Bankers Eye Busy Pipeline After Sales Slow in July
(Bloomberg) -- Borrowers and arranging banks are hoping sentiment in Europe's high-yield market stabilizes over August, ahead of a jam-packed issuance pipeline and a backlog of deals that failed to price in recent months.
Fickle market conditions have held some companies back from raising funds in July, which saw sales drop 27 percent year on year to 5.2 billion euros-equivalent ($6.1 billion), according to data compiled by Bloomberg. So far this year, supply is down about a fifth compared with the same period of 2017.
"We've seen deals that fail to tick the right boxes get swift pushback from the buyside," said Stephen Smith, a high-yield syndicate manager at Barclays Plc in London.
And while investors have cash to put to work, they remain selective, Smith said, adding that marginal investors have been called upon to get tougher deals over the line.
Read More: High-Yield Deals Withdrawn or Delayed This Year Rises to Ten
"It's been buyer beware of many of the deals we've seen recently, especially for the LBO deals where you have PE firms at the helm," said Uli Gerhard, a senior portfolio manager at Insight Investment Management Ltd., which manages $791 billion of assets.
"You just have to be selective in this market if you want your portfolio to deliver as there have been many underperformers against this shakier backdrop," Gerhard said. The portfolio manager welcomed the investor discipline of recent weeks but is aware of investors criticizing deals only to go ahead and buy them anyway.
Amid these fragile conditions, the market tone turned more supportive in the second half of July, helped by a tempering of fund outflows and narrowing yields in the secondary market.
High-yield credit spreads have ground 40 basis points tighter on the month, according to Thomas Hanson, a fund manager at Janus Henderson Global Investors, whose fixed income department manages more than $2 billion in speculative-grade assets.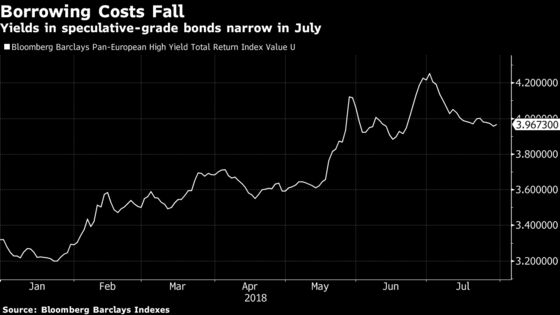 "It feels as though this squeeze could persist for a while longer, as the lack of supply will be supportive for the technical environment," Hanson said. "We continue to position our high-yield portfolios defensively though, as we are focused on longer term macro risks such as slowing growth and trade wars."
These supportive factors enabled even the more storied credits and those bringing leveraged buyout transactions to successfully raise funds in July. WFS Global Holding SAS secured a 660 million-euros buyout financing last week while Ceva Logistics AG raised 300 million euros to refinance a costly debt stack.
"Borrowers have opted to access the market as soon as possible instead of waiting to see if market conditions improve in September," Barclays syndicate banker Smith said.
In what already looks to be a relatively active August, two borrowers are trying to push deals out this week: A 515 million-euros of payment-in-kind note offering from WiZink Bank SA, supporting the sale of a minority stake to its majority shareholder, and cable manufacturer Nexans SA is marketing a 300 million euro transaction.
"We've certainly been advising clients to capitalize whenever they can, as post summer supply looks set to be significant and we can see more potential downside than upside catalysts in the medium term," Smith said.