Ex-HSBC FX Trader Wins Rare U.K. Order Blocking Extradition
(Bloomberg) -- Stuart Scott, the former head of currency trading at HSBC Holdings Plc, won a last-ditch battle to block his extradition to the U.S., where he would face wire-fraud charges.
Scott was charged, along with his ex-boss Mark Johnson, by the U.S. Justice Department in July 2016 with front-running a $3.5 billion currency order from Cairn Energy Plc in 2011 that made the bank $8 million. A London judge ordered his extradition in October.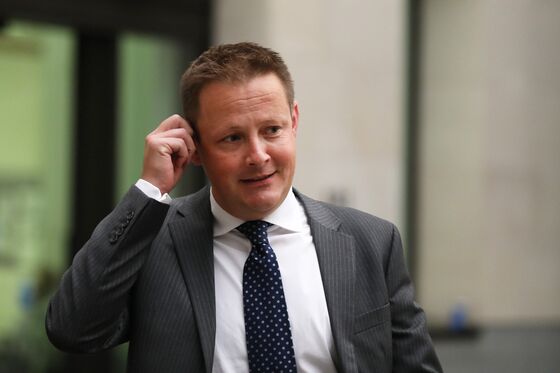 U.K. Court of Appeal judges ruled on Tuesday that "most of the harm took place" in the U.K. and that Scott has a strong connection to his home country. Scott's "extradition is not in the interests of justice and the appeal should be allowed."
Anne Davies, a lawyer for Scott, said her client was pleased with the ruling, but the U.S. government had indicated that it would appeal. Scott appealed on four grounds and won on one, according to the judgment. A spokesman for the Crown Prosecution Service didn't immediately comment on the ruling.
Johnson was found guilty by a New York jury last year and sentenced to two years in prison, becoming the first person convicted in a global crackdown on currency rigging. While Johnson was arrested at New York's Kennedy Airport in 2016 before he could return to the U.K., Scott remained free at his home in the London suburbs.
Critics of the U.S.-U.K. extradition treaty have long complained that the relationship is unbalanced, but Scott's appeal is the second this year to go against the U.S. In February, Lauri Love, a U.K. computer activist accused of hacking into U.S. government computers and stealing data, won his appeal against his extradition after a High Court judge ruled he shouldn't be tried abroad.
"I don't see this as resetting the relationship with the U.S., but with two very high profile victories against U.S. extraditions in the last six months things are certainly starting to shift.," said Thomas Garner, a London extradition lawyer who isn't involved in the case. "It is perhaps becoming less inevitable."
At an earlier hearing, Scott said he was interviewed by HSBC's external lawyers three times in 2014 as part of an internal investigation into foreign-exchange practices. Regulators globally started probing the sector in 2013 after Bloomberg News reported traders were colluding to manipulate benchmark currency rates and profit at clients' expense.
Scott was told his interviews may be shared with the U.K. Financial Conduct Authority. The regulator fined HSBC 216 million pounds ($284 million) in 2014 for failures in its systems and controls around currency trading but didn't take any individual action against him.
Scott was also interviewed by the Justice Department that year. Seven banks paid about $10 billion in fines to U.K., U.S. and Swiss authorities over the failings in 2014 and 2015.
"While we would accept that market manipulation was damaging to the integrity of the United States financial markets, that harm is unquantified and, in any event, there is no reason to doubt that equal or greater harm was suffered to the integrity of the United Kingdom markets where more of the trading took place," the three-judge panel ruled.