Canada Sees Its Broadest Economic Expansion in Almost 14 Years
(Bloomberg) -- Output grew in 19 of Canada's 20 industries in May -- the most comprehensive monthly expansion since August 2004. The broad increases drove headline growth in gross domestic product to 0.5 percent, the largest increase in a year, thanks to better weather and increased oil production.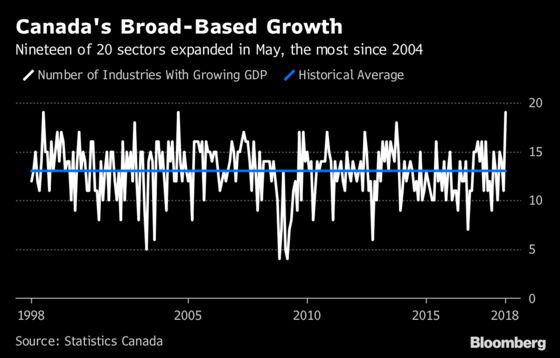 GDP doesn't often grow this thoroughly. In the last 20 years, there's been just three months where 19 or more sectors have increased together. On average, the number of industries expanding per month is just 13.
"Clearly this means growth isn't driven by solely one-off factors, and the solid breadth suggests the Canada economy has some gas in the tank as we move into the potential headwinds caused by the impact of trade tariffs," Brian DePratto, senior economist at Toronto-Dominion Bank, said in a phone interview. "Underlying momentum is solid."