Bezos Tried. Dorsey Failed. Now It's Cook's Turn: Taking Stock
(Bloomberg) -- Stock futures are bouncing as the unloading in tech takes a much-needed breather: QQQs are up slightly pre-market after a 4.2% drubbing over the past three days.
Meanwhile, global markets drift higher despite disappointing data (weak PMIs in China, GDP missed the mark in the Eurozone and fell to a 2-year low), a profit miss at Samsung -- though shares only fell 0.5% in Seoul, a win in my book given the recent tech-related earnings collapses -- and some tweaked policies by the BoJ, though not enough to spook markets.
The 2,800 level on the S&P 500 has come back to the forefront of the daily market discussion, especially after the downward spiraling in the tech sector stalled out right when the index touched that level in Monday's session.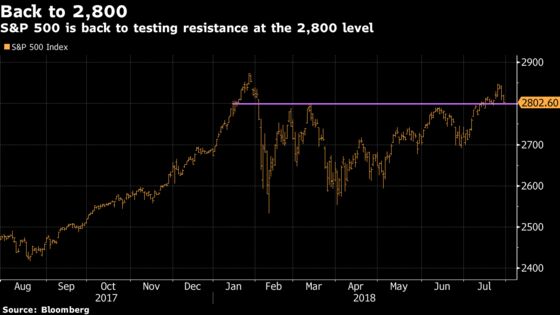 We've now seen three straight days of pain for the market (and many hedge funds), with the Nasdaq 100 tumbling 1.4% in each session -- the last time we saw the NDX fall more than 1% for three days in a row was back in August 2015 -- with a brief test of the 50-day moving average yesterday at 7,175.
But not everything is trending lower. We're coming off weeks of inflows into the equities markets, as investors are feeling optimistic given the uber-consistent pace of earnings beats, economic data continues to shine, a slightly benign shift in trade sentiment after the Juncker meeting, and a benchmark index that remains within distance of breaking to a record high. And so money has clearly been coming out of tech in the past three days (NYFANG plunging ~9%, S&P 500 Info Tech down >5%), but it's being put to work elsewhere.
Just look at what's traded higher since the Facebook fiasco last Wednesday. In those three sessions, we've seen green in defensive sectors like the utilities and the consumer staples, as well as in energy equities and the banks. We're even seeing green in one part of tech that you wouldn't have thought: the semis, as the SOX is actually trading up since the Facebook fiasco, and that's even with Intel's near 9% flop last Friday!
Can Cook Do What Bezos Couldn't?
Going to the videotape, we see that Facebook has plunged more than 20% since its warning about a sales slowdown last Wednesday sparked a reversal in the broader tech tape (though it's still up ~12% from its mid-March Cambridge Analytica lows). Jack Dorsey's Twitter is down a shade under 30% in that same time span, thanks to its own earnings-related problems, while Jeff Bezos' Amazon already gave up any gains from its beat on Friday and Netflix has lost 16% of its market value since reporting half a month ago.
Some had expected that Amazon's beat would offset any of the Facebook-fueled malaise and, at the very least, keep the sellers at bay, but Twitter's whiff dashed any of those hopes. Now its up to Tim Cook's Apple, the last of the FAANGs to report earnings for the quarter.
Apple's numbers are out later tonight (see our preview) and come at a time when there are fewer concerns over the fundamental story than the last go around, when sell-sider after sell-sider slashed their estimates for iPhone sales. But they also arrive at a moment when persistent profit-taking has taken a hold of the tech space, especially among any of the heavy momentum Internet and social media names.
So can Apple be a tourniquet for the widespread bleeding in tech? It's possible, but odds are stacked against it in this environment given 1) any hint of a miss for a key metric this quarter or next will likely be met with a new burst of selling, 2) even a giant beat doesn't guarantee that its own stock will stay afloat, just look at how Amazon has traded since their report a coupled days ago, and 3) Apple has traded on its own path vs the rest of FAANG for a while now, underperforming when the rest of the group rallied (as it has year-to-date) and leading the pack over the last three days when the others tumbled.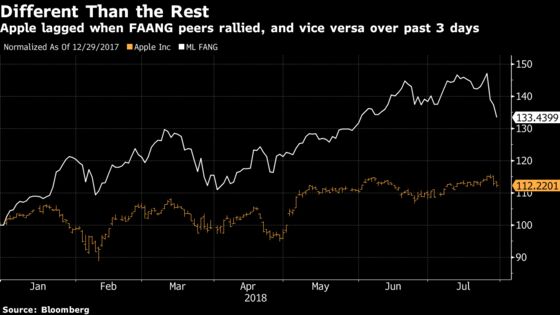 Nomura Instinet upgrades TWTR to neutral, after initiating shares at a reduce rating three weeks ago, with expectations now appropriately reset; sees upside to $45 versus downside to $14 (versus Monday's close at $31.38).
Cowen downgrades CBS to market perform given all of the "unquantifiable variables" going on with the company at this point: "Our downgrade is not based on any evaluation of the claims in the [New Yorker] article; rather, it is a reflection of the fact that the added overhang of an investigation of uncertain length with an uncertain outcome will make share outperformance difficult, even given the recent selloff."
Barclays removes its overweight rating on CAT as its largest end markets are "no longer at trough" while the company has limited margin expansion potential in the second half; prefers DE and CNHI, which are at similar valuations but both earlier in their market cycles..
Jefferies upgrades CMG to buy with one of the highest price targets out there at $550, citing same-store sales visibility and a sooner-than-expected return to >20% restaurant-level margin, though shares are down ~1.5% pre-market after illness reports at an Ohio location.
Tick-by-Tick Guide to Today's Actionable Events
Today -- FDA decision date for MYL's generic to AGN's Restasis
Today -- IPO lockup expiry: CAAP, HUD, SLGL, OSS, CEPU
7:00am -- SHOP, PG, ADM, CHTR, AMT, GGP, MAS, OSK, INCY earnings
7:30am -- CMI earnings
7:45am -- AGCO (roughly), SABR (roughly) earnings
8:00am -- RL, ARNC, VMC earnings
8:30am -- PCE, Personal Income, Employment Cost Index
8:30am -- SHOP, PG, CHTR earnings calls
9:00am -- S&P Case-Shiller Home Price Index
9:00am -- CSII analyst day
9:45am -- Chicago PMI
10:00am -- Conference Board Consumer Confidence
10:00am -- Senate hearing on health care costs
10:00am -- ETN, CMI, PFE earnings calls
11:00am -- ABAX shareholder vote on ZTS deal
4:00pm -- ULTI earnings
4:01pm -- P, AKAM, HOLX, DOX earnings
4:05pm -- MTSI, GLUU, DVN, APC (roughly) earnings
4:10pm -- VRSK earnings
4:15pm -- ZEN, QLYS, CHRW, CAKE, HCLP (roughly) earnings
4:30pm -- API oil inventories
4:30pm -- AAPL, BIDU earnings
5:00pm -- ASH earnings
5:00pm -- AAPL, P earnings calls
7:00pm -- Trump hosts Make America Great Again rally
8:00pm -- IQ earnings call
9:15pm -- BIDU earnings call
9:45pm -- China Caixin Manufacturing PMI
For more on Apple's outlook, check out the Decrypted podcast: