101 People Survive Mexico Airline Crash
(Bloomberg) -- Multiple people were injured after an emergency landing by Grupo Aeromexico SAB aircraft but no one died, a state official said, contradicting a report of eight fatalities.
Many passengers left on foot from the scene of the accident in Durango, Mexico, said Israel Solano, a state civil protection official, in an interview with broadcaster TV Azteca. The Televisa network reported earlier that eight people died.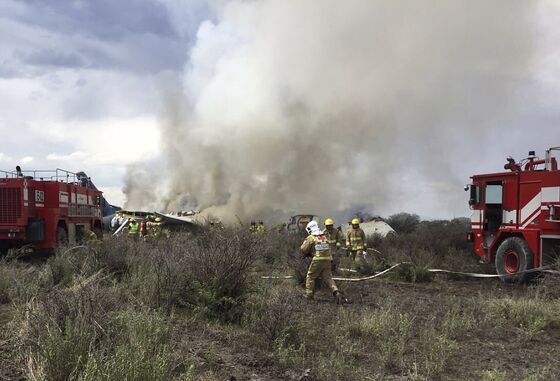 Televised images showed smoke coming from the plane. The Embraer SA E190 was carrying 97 passengers and 4 crew members, said Mexico's transportation minister, Gerardo Ruiz Esparza. Durango is located about 530 miles (860 kilometers) southwest of Laredo, Texas.
Aeromexico, which is partially owned by Delta Air Lines Inc., confirmed that no fatalities had been reported as of the late afternoon. The Mexico City-based carrier said it was working to verify details of the accident involving Flight 2431.
Embraer said it is aware of the accident, and has sent a team of its technicians to the scene to support the investigating authorities. The plane involved was delivered in May 2008, the Brazilian company said in an emailed statement.
The operator of Durango's airport said the incident was due to bad weather.