Short FAANG Stocks, BofA Says
(Bloomberg) -- The hammering in Facebook stock is a sign of a peaking market, and investors should consider betting against the tech darlings, according to Bank of America.
To prepare for monetary tightening and slower growth, they should short the FAANG bloc of Facebook, Apple, Amazon, Netflix and Google parent Alphabet, strategists led by Michael Hartnett wrote in a list of trades for the second half of 2018. In the firm's latest survey of money managers, going long the group was described as the most-crowded strategy for a sixth month.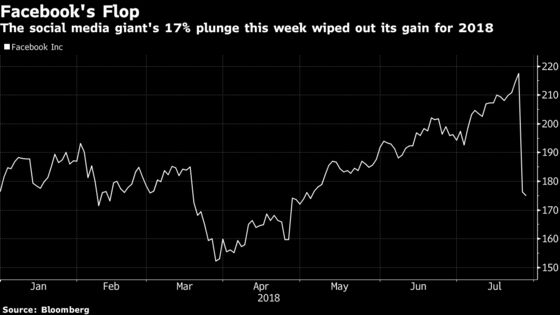 Tech stocks have led the market's rally over the past few years as investors sought growth in an economy where Federal Reserve policy makers have kept interest rates low to stimulate demand. More than $650 billion in market cap has been generated in 2018 alone by rallies in the FAANG group, an amount equal to the combined value of the 80 smallest firms in the S&P 500 Index. As the central bank withdraws stimulus, high-flying stocks will suffer, the strategists said.
Facebook already has. The stock plunged 19 percent Thursday, the most on record, after Chief Financial Officer David Wehner said revenue would climb more slowly than expected in coming quarters.
The shock over Facebook is a "classic late-stage event," Hartnett wrote in a note to clients. "Cult leadership becomes volatile and vulnerable as 'liquidity' drained."
Betting against these momentum stocks has proved futile, with an index known as NYSE FANG+ rallying more than 40 percent over the past year. Hedge fund managers such as David Einhorn saw returns hurt in the first half as wagers against Netflix and Amazon backfired. Even with this week's drop, Facebook is up 2.6 percent over the past 12 months.
Hartnett advised investors to pair the short-FAANG trade with a strategy to buy emerging markets. His other recommendations for playing with the late-cycle theme include:
Buy U.S. homebuilders versus small-caps
Buy Japanese stocks versus the nation's government bonds
Buy gold and volatility