Russia-U.S. Syria Accord Hits Snags as Post-Summit Tensions Grow
(Bloomberg) -- One of the main agreements reached between Russian President Vladimir Putin and his U.S. counterpart Donald Trump at their summit in Helsinki -- coordinated steps to help stabilize the situation in Syria -- is already running into trouble.
Facing a storm of criticism in Washington of their meeting, the two leaders touted the agreement to reduce Iran's role in the war-torn nation and step up efforts to bring back refugees as a tangible result of their cooperation. But the Syria efforts have stumbled in the aftermath of the summit, amid recriminations between the U.S. and Russia and pressure from Israel for more limits on Iran's influence.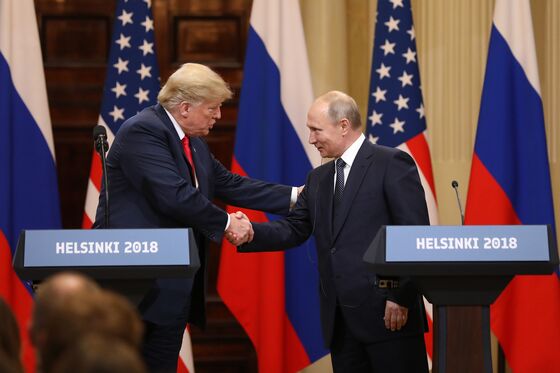 Last week, Moscow accused the U.S. of sabotaging the deal. Russian Foreign Minister Sergei Lavrov and a top general set off on an emergency diplomatic tour Monday to Israel, Germany and France to try to get the effort back on track. U.S. officials so far have provided little detail of what was discussed in Helsinki, but Secretary of State Mike Pompeo Wednesday confirmed the outlines of the understandings on Syria.
The difficulties in implementing them highlight the challenges for the Kremlin's efforts to engineer a settlement in Syria that balances the interests of all the conflicting factions, from President Bashar al-Assad and his Iranian backers to Israel and the U.S. The furor in Washington over Trump's handling of the summit, including a push in Congress for new sanctions on Russia, has only complicated the effort.
The U.S. "has not fulfilled its own promises" made in Helsinki to remove opposition forces to enable a buffer zone on Syria's border with Israel, the Russian Foreign Ministry said on Tuesday. The Defense Ministry accused the U.S. of sabotaging the agreement after a senior American commander, General Joseph Votel, said that his country's military won't cooperate with Russian forces beyond a de-confliction hotline to avoid unintended clashes.
Moscow is counting on U.S. help to bring an end to the fighting in the region, a precondition to bringing back refugees. That issue was a key one on the agenda in Lavrov's meetings last week, as the Kremlin sought to get European governments to help fund reconstruction in Syria in return for Russian commitments to return Syrians displaced by the war to their homes.
To limit Iran's role, Russia had proposed a 100-km (60-mile) buffer zone on the Syrian side of the border that would be off limits to Iranian forces and their allies. But Israel is demanding further protections, including the removal of long-range Iranian missiles from Syria and limits on weapons supplies, according to media reports in Israel and Russia. The Jewish state, which has carried out frequent strikes on Iranian-backed targets inside Syria, has stepped up military action in the area.
Israel understands that any Russian promises won't be enough to contain Iran, said Major-General Amos Gilad, a recently retired Israeli Defense Ministry official. "We need to tackle their hostile capabilities beyond any given buffer zone. They have capabilities like unmanned aerial vehicles and long-range missiles, and so we must take action against all these threats."
Russia's ability to pressure Iran into concessions is limited, according to officials in Moscow.
After seven years of conflict in which Iran has devoted huge human and financial resources to prop up Assad, "the Iranians most likely won't go, they've paid too high a price already," said Frants Klintsevich, a member of the Russian upper house of parliament's defense and security committee.
Even the 100-kilometer zone is "unrealistic" because Iran at the most will agree to remove its troops, though not its military advisers or militia fighters from the area, said Yury Barmin, a Middle East expert at the Russian International Affairs Council, a research group set up by the Kremlin. "In the south, Iran has embedded its people with Syrian army units -- this is not something that Russia can control," he said.
A compromise is possible if Israel admits it's impossible to roll back Iran completely in Syria, said Nikolay Kozhanov, a Middle East expert at the European University at St. Petersburg who served as a Russian diplomat in Tehran from 2006-2009. "If not, Iran will use rockets to attack Israeli infrastructure and Israel has a green light from Moscow for bombing raids on Syrian territory."
The situation in Syria will be among the topics of a meeting Turkey is planning with Russia, France and Germany in September, President Recep Tayyip Erdogan told Turkish reporters, Haberturk reported Sunday. The Istanbul meeting is planned for Sept. 7, the newspaper said.