Disney and Fox Are Merging. Why Is Sky Still in Play?
(Bloomberg) -- What began as a simple bid in late 2016 by Rupert Murdoch's 21st Century Fox Inc. for the part of Sky Plc it doesn't already own sparked a transcontinental bidding war when Walt Disney Co. and Comcast Corp. joined the chase for Sky, a British broadcaster. Fox soon found itself in a tug-of-war between rival bidders, Disney and Comcast, as a rapidly shifting media landscape propelled one of the more intriguing global media battles in decades. Now that shareholders are set to approve the $71 billion merger of Disney with Fox's entertainment assets -- Comcast having thrown in the towel -- the endgame seems near. Yet the fate of Sky remains very much up in the air.
1. What's driving these huge media deals?
Two entertainment giants, Disney and Comcast, had been fighting over Fox for one big reason: internet streaming. Movies, TV shows and other entertainment offered by Netflix Inc., Amazon.com Inc. and Hulu have grown so popular that Americans are abandoning cable-TV subscriptions in droves, eating into media companies' profits. Owning Fox will give Disney iconic entertainment assets -- from "The Simpsons" to the "X-Men" franchise -- that could make its own streaming TV services more compelling. Fox's 30 percent stake in Hulu would also give Disney majority ownership over one of the few real Netflix competitors, since each already owns 30 percent of Hulu.
2. Why is Sky getting so much attention?
Sky's 23 million customers in five European countries would give Comcast or Disney a rare opportunity to diversify out of the U.S. and reach more consumers directly. Sky boasts a market-leading platform, its Q box, which Comcast Chief Executive Officer Brian Roberts says leaves him "terribly impressed." Sky also has a suite of sought-after TV content to lure and retain subscribers, including rights to Premier League soccer. Of the assets he's seeking to acquire from Fox, Disney CEO Bob Iger called Sky "a real crown jewel."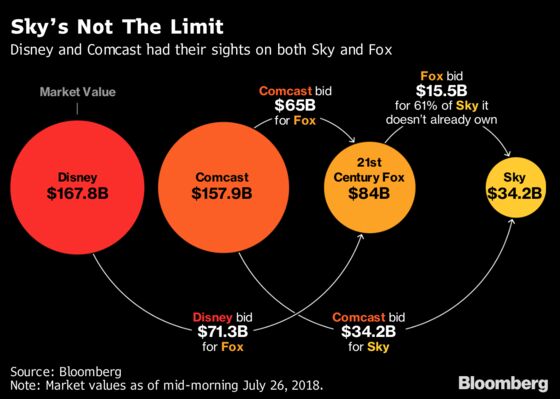 The Murdoch family wanted to sell some of the global empire it assembled over three decades. On June 20, Disney sweetened its bid for the Fox assets to $71.3 billion in cash and stock, up from $52.4 billion. The deal, which Fox accepted and shareholders are likely to approve on July 27, will include the 20th Century Fox movie and TV production house, Star India, a lineup of U.S. cable channels like FX and National Geographic, and Fox's 39 percent stake in Sky. Disney raised its bid -- it will also assume almost $14 billion of Fox's debt -- to trump Comcast's $65 billion offer. Fox preferred Disney because it considered the stock more valuable, and it worried that a deal with Comcast would meet regulatory snags.
4. What happens next with Sky?
As it stands, Comcast's bid of 14.75 pounds ($19.34) a share is at a premium to Fox's 14 pounds a share. Now, the question is whether Fox or Disney -- which is acquiring Fox's 39 percent stake in Sky -- will top Comcast's offer. Comcast isn't likely to concede: It has filed formal offering documents for Sky, whose shareholders have until Aug. 22 to decide whether to tender their shares to Comcast. Once Comcast gets to 50 percent plus one share of Sky, it will own a majority of the European pay-TV provider.
5. What about regulatory snags?
Comcast had waited to make a formal bid for Fox's entertainment assets until the fate of another so-called vertical deal, combining programming and distribution powerhouses, was decided: AT&T Inc.'s attempt to acquire Time Warner Inc., which the Justice Department had tried to block on antitrust grounds. A federal judge gave AT&T antitrust clearance to buy Time Warner, but the Department of Justice has said it will appeal. Disney last month had gained an edge over Comcast when it won U.S. antitrust approval for its purchase of Fox's assets.
6. What might the endgame look like?
Unless Fox increases its offer for Sky, it's possible that Comcast will end up with Sky while Disney walks away with Fox's entertainment assets, thus carving up Murdoch's media empire.
7. What about the Murdoch dynasty?
The family will still rule over a broadcast network, a cable sports channel, a business news channel and Fox News. The Murdoch family separately controls News Corp., which aside from British newspaper holdings also owns the Wall Street Journal and the book publisher, HarperCollins. The Murdochs in addition would hold a stake of more than 4 percent in Disney, ranking them among the largest shareholders.