Trump Is Back in Iowa, Saying That He's 'Taking Care' of Ethanol
(Bloomberg) -- As Donald Trump's trade wars rattle American farmers, the president is attempting to woo the heartland with promises to support ethanol.
At a rally in Iowa Thursday, Trump dangled the possibility of allowing year-round sales of so-called E-15 fuel at filling stations, a mixture of 15 percent ethanol and the rest gasoline. The agriculture sector has long-lobbied for the move, which could boost demand for corn used to make the biofuel. Most ethanol is currently sold in increments of 10 percent, and the higher blends are barred from being sold during the summer months.
"I am very close, I have to tell you, to pulling off something that you have been looking forward to for many years, and that is the 12-month E-15 waiver," Trump said at Northeast Iowa Community College in Peosta, Iowa, adding that changing the policy is "a complex process."
Trump is back in Iowa -- the biggest U.S. corn and ethanol producer -- at a time when his trade policies have roiled commodity markets. China has issued retaliatory duties on a host of U.S. farm goods, and the president's protectionist stance has also threatened trade with Canada and Mexico.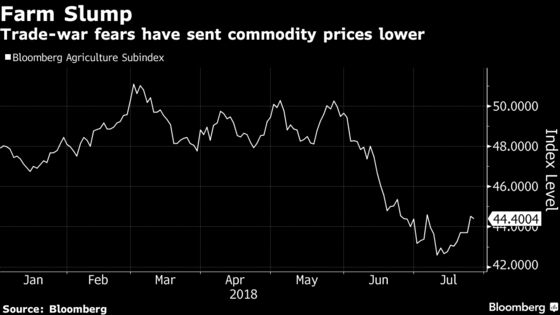 As industry groups warn that the escalating tit-for-tat tariffs could result in a blow to the agricultural economy, Trump this week pledged to provide $12 billion in assistance to farmers. Ethanol groups asked the president to grant higher blends as part of that package.
Shares of ethanol producer Green Plains Inc. extended gains after Trump's comments, rising as much as 2.6 percent.
It's unclear whether Trump's plan for the waiver would be to grant it as part of the farmer-aid package, or if it would be written into a broader biofuels deal.
The law that mandates biofuels use, the Renewable Fuel Standard, is a lightning rod between two of Trump's key constituencies: rural farmers and oil refinery workers. He's personally waded into the fray with a series of White House meetings to broker a compromise.
At the event Thursday, Trump said that Iowa's Republican Senators Chuck Grassley and Joni Ernst have been pushing him on ethanol.
"We're taking care of your ethanol," Trump said.