Putting Zuckerberg's $15.1 Billion Wipeout Into Perspective
(Bloomberg) -- For many of the world's richest people, losing $15.1 billion in five minutes would be a wipeout.
For Mark Zuckerberg, it's just about a sixth of his net worth.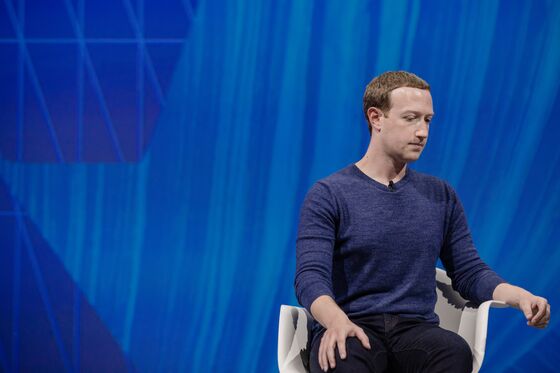 His fortune tumbled 17 percent in the first five minutes of trading Thursday, as shares of the social media giant slid 18 percent on disappointing second-quarter results. If that holds through the close, he'll slide to sixth place from third on the Bloomberg Billionaires Index, a ranking of the world's 500 richest people. It would also wipe out his $13.7 billion of gains for the year, leaving him with about $71 billion.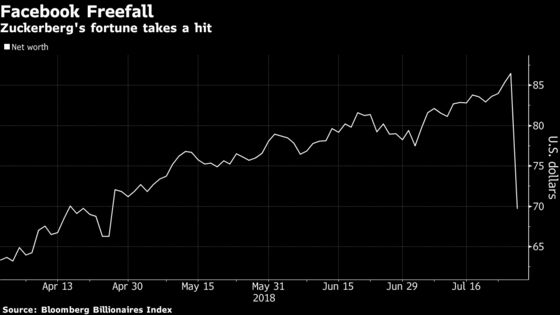 It's an evaporation of wealth so big it would have erased much of these fortunes:
Charlene De Carvalho-Heineken -- she's the biggest shareholder of the world's second-largest brewer, Heineken NV, and has a net worth of about $16.7 billion
Iris Fontbona & family -- Fontbona is the matriarch of Chile's richest clan, which controls Antofagasta Plc, one of the world's largest copper producers
Leonard Lauder -- chairman emeritus of Estee Lauder Cos Inc., one of the largest makers of cosmetics and fragrances
Zhang Zhidong -- the co-founder of Tencent Holdings Ltd., with a net worth of $16.2 billion
Elaine Marshall -- a director at Koch Industries Inc., the second largest closely held business in the U.S.
William Ding, chief executive officer of NetEase Inc. with a fortune of $16 billion