Vodafone's New CEO Read Faces Challenge of a Stagnant Europe
(Bloomberg) -- Vodafone Group Plc Chief Executive Officer Vittorio Colao staked the British company's future on Europe's maturing telecommunications market, where business is now shrinking in a challenge for his successor Nick Read.
The decline in European quarterly sales that Vodafone reported Wednesday piles pressure on Read to confront new mobile competitors in southern Europe and make a success of its $22 billion takeover of Liberty Global Plc's German and east European businesses.
The world's second-largest mobile carrier resorted to steep discounting in Spain, where Orange SA is stepping up its game, and in Italy, where Iliad SA burst onto the scene in May with cut-price subscriptions. Overall organic sales grew slightly in the fiscal first quarter, as expected, helped by Asia and Africa.
"Clearly the competitive situation in Italy has intensified," Colao said on a call with reporters. "Iliad has launched very low price offers which are getting some traction in the market. We believe these are levels where it's not easy to make money in the long term."
Vodafone shares fell 1.9 percent to 174.26 pence at 10:52 a.m. in London, bringing their decline in the past year to 21 percent.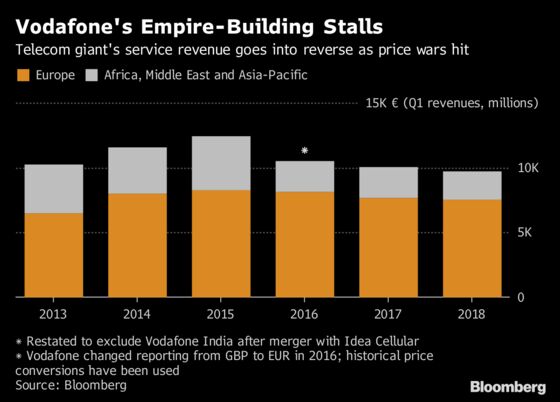 The 1.3 percent sales decline in Europe, which makes up three quarters of Vodafone's revenue, was slightly worse than expected, Usman Ghazi, an analyst at Berenberg, said in a note. He said Europe would probably stay weak in the second quarter before improving as price moves have an impact. Read is due to take over as CEO in October.
Organic service revenue, the money Vodafone gets from customers' plans and traffic on its networks excluding handset sales, rose 0.3 percent in the period ended June 30, versus expected growth of 0.2 percent, according to an average of five analysts' estimates compiled by Bloomberg.
Discounting in Spain pushed service revenues there down 2.2 percent. In Italy, they fell 6.5 percent, as Vodafone put in place new price plans and switched to a 28-day billing cycle.
Read told reporters he did not expect much improvement in Italy as France's Iliad pushes in with its simplified, low-price contracts.
"We're comfortable that our commercial actions are having an impact," Read said.
Vodafone has gone from being a challenger to Europe's former telecom monopolies to part of an industry establishment under assault from new entrants offering simple, pared-down subscriptions.
The Liberty deal helps it to bundle internet, phone and TV services in Germany, already its biggest market, in a challenge to former state monopoly Deutsche Telekom AG.
Combining fixed-line and mobile services with TV and content is seen as the industry's best hope of keeping customers loyal and avoiding a race to the bottom on price.