UPS Surges as Jump in Foreign Sales Defies Rising Trade Tensions
(Bloomberg) -- United Parcel Service Inc. rose the most in almost seven years as international sales surged and the courier's ambitious investment plans started to win over investors.
Overseas revenue again posted double-digit growth despite heightened global trade tensions, rising 14 percent in the second quarter, UPS said Wednesday as it reported earnings. That pushed total sales above analysts' estimates. In the U.S., revenue gained and price increases picked up as the company rushed to profit from the rise of online shopping.
UPS is benefiting from strong demand for package deliveries at home and abroad, even with concerns about a slowdown in foreign trade as President Donald Trump imposes tariffs on China, the European Union and other countries. The global economy remains healthy despite the "emerging discord,'' UPS Chief Executive Officer David Abney said on a conference call with analysts.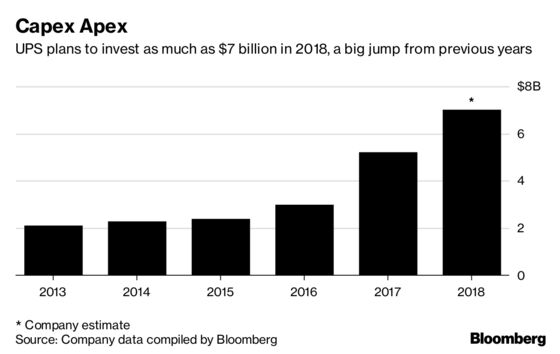 "While we expect continued growth in global trade, we're closely monitoring the changing trade landscape,'' Abney said. "No matter the outcome, we're well prepared in the event rising tensions impact our cross-border business."
The shares climbed 6 percent to $119.20 at 2:49 p.m. in New York after rising as much as 6.1 percent for the biggest intraday gain since August 2011. UPS had dropped 5.6 percent this year through Tuesday, while the S&P 500 Index advanced 5.5 percent.
UPS is deploying tools such as warehouse automation and software that finds the fastest route for delivery vans as it rushes to lower the cost of home deliveries, which weigh on efficiency because drivers typically handle fewer parcels per stop than at businesses. The company announced plans earlier this year to spend an extra $7 billion through 2020 on new planes, labor-saving technology and other infrastructure.
While that spending has crimped profit, the Atlanta-based company is winning more support for its capital-spending plan. That's a turnaround from February, when UPS's stepped-up investment goals sparked a selloff.
"Investors have been asked to take somewhat of a leap of faith on UPS over the last 12 months, as management front-loads transformation costs, with an implicit promise of better margins and returns on the back end," Rick Paterson, an analyst with Loop Capital, said in a note.
The rewards will become more apparent next year, Thomas Wadewitz, an analyst at UBS Group AG, said in a report to clients. UPS executives will hold an investor meeting Sept. 13 to provide more details on the expected results from the investment plan.
We believe there are multiple cost side/productivity drivers which support improving margin performance and attractive EPS growth in 2019," he said.
UPS is adding sorting capacity of 350,000 packages an hour for this year's peak holiday season. The new facilities, including in Atlanta, London and Paris, are 30 percent to 40 percent more efficient, the company said.
The courier expects to maintain its return on invested capital of between 23 percent and 28 percent with the new investments, Chief Financial Officer Richard Peretz said on the conference call. The company invested $2.8 billion in the first half.
UPS is also poised to save about $200 million a year from employees that voluntarily took early retirement, an offer for which UPS took a charge of $263 million in the second quarter.
The domestic package unit earned 11 cents for every dollar of sales in the quarter, down from about 13 cents a year earlier. The international operation's profit margin was 18 percent.
Adjusted earnings rose to $1.94 a share, compared with the $1.93 average of analysts' estimates compiled by Bloomberg. Sales climbed 9.6 percent to $17.5 billion. Analysts had predicted $17.3 billion. In the current quarter, profit will be toward the top of the previous growth forecast of between 22 percent and 26 percent, UPS said.
Abney said he wasn't concerned that Amazon.com Inc., a major customer of UPS, recently announced plans to begin a delivery network to handle more of its own packages. The internet retailer is only addressing "supplemental growth capacity."
"We closely monitor what they do, just like we would any other large entity,'' he said in an interview. "If we start to see them competing more, then we have to make the appropriate decision at the time.''
As competition heats up, UPS is trying to add flexibility in a new five-year contract with the Teamsters union by creating a class of driver that would work weekends. The company began Saturday pickup and deliveries last year and is looking at adding Sunday operations.
UPS and the union have reached an agreement in principle and agreed to extend the current contract past this month's expiration date to allow more time to negotiate side agreements with individual locals.