Chinese Purchases of U.S. Property Dry Up Over Trade War
(Bloomberg) -- Chinese investment in U.S. commercial property fell to even lower levels as the tit-for-tat trade battle between the world's two largest economies escalated.
Direct investment plunged 97 percent to $81 million in the second quarter from a year earlier, the lowest level in five years, according to a Cushman & Wakefield Inc. report on Tuesday.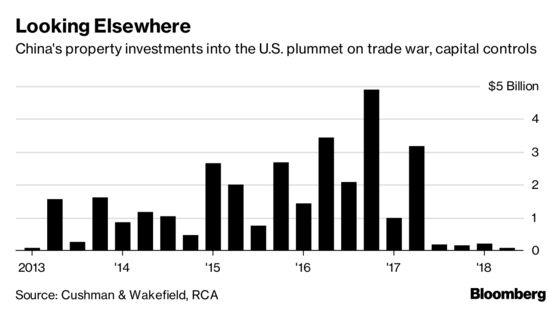 Mainland investors are looking to buy in Hong Kong, Australia or the U.K. as the trade war weighs on sentiment, the report said. Volatility in exchange rates -- the yuan slumped to the lowest in a year against the dollar on Tuesday -- is among reasons for buyers turning cautious, it said. China's capital controls had already seen purchases plunge from record 2016 levels.
With U.S. President Donald Trump tweeting this week that "Tariffs are the greatest!," there's no sign of any swift resolution of the conflict. Mainland buyers' sentiment on investing in the U.S. is likely to stay lackluster into next year, Cushman & Wakefield said. The report was based on the realtor's own and external data tracking transactions larger than $5 million.