S. Korea Economy Sustains Growth Momentum as Exports Hold Up
(Bloomberg) -- South Korea's economic expansion met expectations in the second quarter as exports held up despite global trade friction. Semiconductor shipments led the way while domestic demand showed weakness.
Key points
Gross domestic product expanded 0.7 percent in the three months ended June from the previous quarter, when it expanded 1.0 percent, the Bank of Korea said Thursday.
Economists had expected GDP to grow 0.7 percent quarter on quarter.
From a year earlier, the economy expanded 2.9 percent, matching a median estimate of economists.
The latest figures provide a mixed picture of healthy overseas sales for the key semiconductor industry accompanied by softness in domestic demand. The readings are in line with the central bank's recent move to slightly trim its economic growth projection for this year to 2.9 percent from 3 percent. Higher borrowing costs could still be on the cards for Korea at the next monetary policy gathering in August after one board member voted to hike interest rates at the July meeting.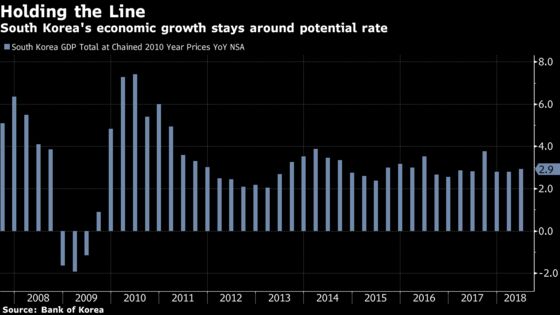 Growth in the second quarter remained on a solid path as it is still hovering around the economy's potential growth rate of about 2.8-2.9 percent, Park Yang-su, director general of the Bank of Korea's Economic Statistics Department said at a briefing.

Although both upside and downside risks exist, GDP will meet a 2.9 percent forecast for the year provided quarterly growth comes in between 0.82-0.94 percent in the third and fourth quarters, Park said.

Lim Hye-youn, an economist at Daishin Securities, expects GDP to expand at a slower pace than forecast by the central bank. He said a continued slowing of private consumption will cap growth at 2.8 percent for the full year. "If trade disputes intensify, hitting our exports harder than thought, it could pull growth down even further," he said. Lim expects the BOK to raise interest rates in the fourth quarter.
Export volumes increased 0.8 percent in the second quarter from the previous quarter, compared with a 4.4 percent gain in the first three months of 2018.
Import volumes contracted 2.6 percent, compared with a 4.9 percent increase in the previous quarter.
Infrastructure investment fell 6.6 percent after rising 3.4 percent in the first quarter.
Construction investment decreased by 1.3 percent from the previous quarter, when it gained 1.8 percent.
Government spending climbed 0.3 percent.
Private spending edged up 0.3 percent.