Seven Stocks Jumped More Than One Percent on Trump-Juncker News
(Bloomberg) -- President Donald Trump's agreement with European Commission President Jean-Claude Juncker pushed seven S&P 500 Index member stocks up more than one percent in the closing 18 minutes of the trading day.
Deere & Co., the world's biggest tractor maker, surged by more than 2.3 percent following the news. Brown-Forman Corp., which has been squeezed due to its Jack Daniels whiskey being caught in the tariff crossfire, was up 1.3 percent.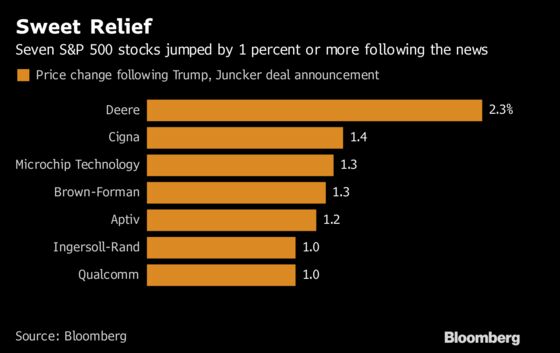 The report, citing an unnamed European Union official, said Juncker had agreed to work with Trump on expanding exports of U.S. liquefied natural gas, lower industrial tariffs on both sides, and import more American soybeans.