Saudis Load Up on Debt as Government's Austerity Program Bites
(Bloomberg) -- Saudi nationals are borrowing two to three times more money than last year as government moves to shore up public finances push up living costs.
Since the beginning of 2018, the government has raised fuel and utility prices, introduced value added tax and imposed a levy on some temporary foreign workers not under an employer's sponsorship. But while the authorities' aim is to boost revenue without snuffing out economic growth, the latest official loan data suggest the policy is hitting ordinary citizens in their wallets.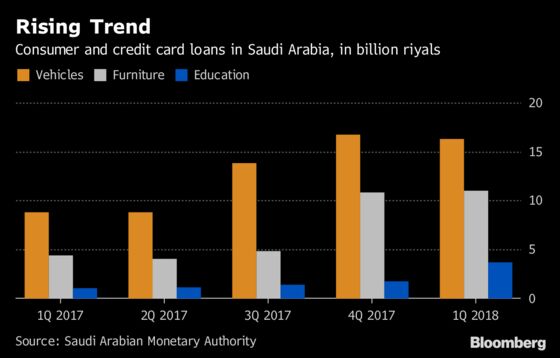 "Household finances are stretched, so people are turning to credit in order to finance big-ticket expenses such as cars and furniture and day-to-day expenses," said Jason Tuvey, an emerging-market economist at Capital Economics Ltd. in London.
Loans to help people put their kids through school or college more than tripled in the first quarter compared with a year earlier, to 3.69 billion riyals ($984 million) from 1.02 billion riyals, according to the Saudi Arabian Monetary Authority. Consumers also borrowed more to buy furniture and vehicles, with loans jumping 152 percent and 85 percent, respectively.
The moves to burnish state coffers are part of Saudi Crown Prince Mohammed bin Salman's Vision 2030 plan, which aims to wean the country off of its reliance on oil exports. Consumer prices have soared since the government introduced its measures to balance the budget, with last year's deflation switching to an inflation rate approaching 3 percent.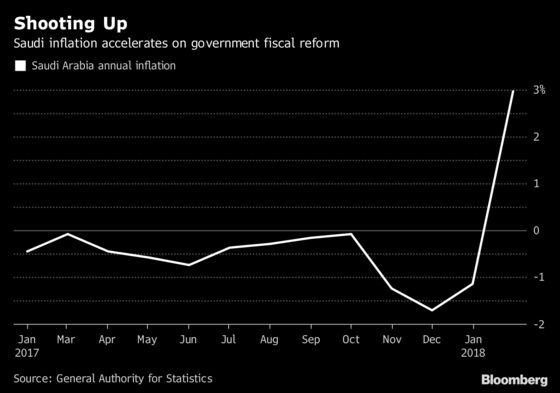 Income is meanwhile under pressure from rising unemployment, which for Saudi nationals climbed to 12.9 percent in the first quarter, the highest in at least six years.
"Households have seen their disposable incomes squeezed over the past two years" and citizens "likely have less funds immediately available with which to pay their education fees," said Daniel Richards, an analyst for the Middle East and Africa at Emirates NBD.