Bonds Go Like Hotcakes in Russia After Brief Sanctions Scare
(Bloomberg) -- Investors were quick to move past a threat of more punishing U.S. sanctions against Russia, ensuring plenty of demand at a weekly debt auction as the ruble erased the drop it suffered the previous evening.
While yields rose to the highest in almost a month as bond traders caught up with the news that U.S. senators plan to introduce a bill that could harm local debt, a relief rally started to take hold in the currency market on Wednesday. The ruble strengthened 0.5 percent against the dollar.
Meanwhile, the Finance Ministry sold all of the 35.2 billion rubles ($558 million) in debt at an auction of domestic securities known as OFZs, with the bulk of the notes more than three times oversubscribed. Non-residents accounted for almost one-third of bids at an offering of fixed-coupon bonds on Wednesday, according to the head of the Finance Ministry's debt department, Konstantin Vyshkovsky.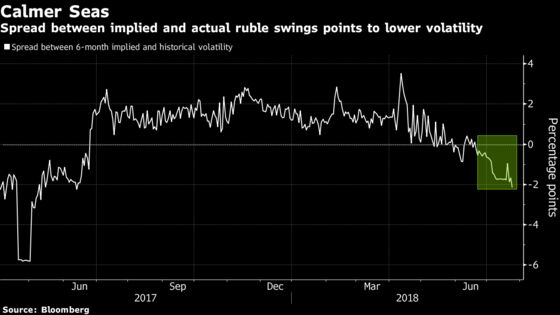 "There's some OFZ selling going on, but it's nothing dramatic so far," said Dmitry Shagardin, chief economist at Bank Saint-Petersburg PJSC. "There are lots of factors affecting the currency. Yesterday there was a bit of panic on the news, but overnight traders calmed down when they understood it wasn't as terrible as initially thought."
Proposals for the so-called nuclear option of sanctioning Russian debt have been raised and dismissed so many times that investors no longer assume they are a real threat, even as pressure builds in Washington for lawmakers to punish the Kremlin for its alleged interference in U.S. elections. A report published by the U.S. Treasury in February concluded that the fallout from debt sanctions would be too damaging for global markets.
"There's no mass exodus of foreigners from OFZs," Vyshkovsky said in an interview. "The situation is stable. This is confirmed by the results of today's auctions."
Still, the fact that the House plans to take a five-week recess after this week means the possibility of penalties could hang over the market in the near term, analysts at Societe Generale SA's Rosbank unit said in a research note. The share of non-resident holdings in OFZs dropped to 28 percent in June, the lowest level since February 2017.
The U.S. "must make it abundantly clear that we will defend our nation and not waver in our rejection" of Russian President Vladimir Putin's "effort to erode Western democracy," Republican Senator Lindsey Graham and Democrat Bob Menendez, who are proposing the bipartisan bill, said in a joint statement. Their proposal would also also target Russia's energy and financial sectors.
The ruble reversed gains in late trading Tuesday, just after the senators announced the proposal, closing down 0.4 percent.
"As far as we can tell, the bill proposing new sanctions is just a proposal," the Rosbank analysts said. "The conditions for their implementation aren't known."