NXP Semiconductors Is Expected to Fall to $92 If Deal Breaks
(Bloomberg) -- NXP Semiconductors NV may fall to $92 a share if its deal with Qualcomm Inc. fails to get Chinese approval by Wednesday's deadline and is terminated, according to a Bloomberg News survey of 10 risk-arbitrage investors and analysts.
Survey responses ranged from $80 to $98. Shares of NXP fell 2 percent to $98.66 at 9:52 a.m. in New York after Reuters reported that Chinese approval is unlikely, citing to a person close to Qualcomm. Analysts and investors surveyed said they expect the holdup in China may also affect other pending deals awaiting approval such as United Technologies Corp.'s purchase of Rockwell Collins Inc.
"China has made it very clear that they're going to use every tool in their toolbox to fight this trade war," said Eric Ross, chief investment strategist at Cascend Securities, in an interview. "I don't think any deals are going to be approved by China in this environment."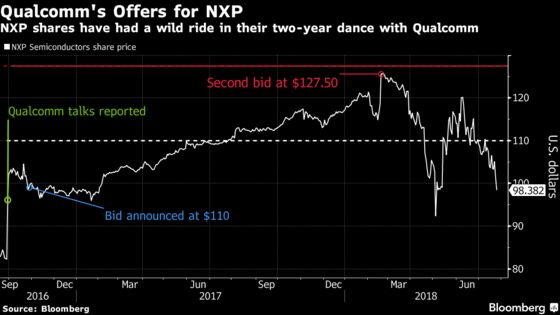 Qualcomm in October 2016 agreed to pay $110 a share for NXP but earlier this year raised its offer to $127.50 amid pressure from Elliot Management Corp. The stock was trading around $82 before reports of talks arose. The deal has an equity value of almost $45 billion.
NXP has given Qualcomm until 11:59 p.m. to get it done. Absent any word from China, Qualcomm doesn't plan to seek an extension. NXP is owed a $2 billion termination fee if Qualcomm walks away from the deal.
"We have to start considering this as something that we need to deal with in the trade war," Ross said.
At around 50 percent, hedge fund ownership in NXP is almost four times the average for companies in the Nasdaq Composite Index, although 81 stocks show a higher percentage. Elliott is the second-largest holder overall with a 5.01 percent stake as of June 5, according to data compiled by Bloomberg. Other top hedge fund holders include Soroban Capital Partners, Pentwater Capital Management LP, DE Shaw & Co. BlackRock Inc. is the biggest holder of NXP shares with a 5.86 percent stake as of March 31.