Mattel Investors Drive Stock Down on Slashed Workforce, Earnings
(Bloomberg) -- Mattel Inc.'s decision to cut 22 percent of its corporate workforce spooked investors, even as it signals new Chief Executive Officer Ynon Kreiz is putting the toymaker's turnaround plan to work.
The company, which took another hit from the liquidation of Toys 'R' Us Inc. in the second quarter, announced late Wednesday plans to eliminate more than 2,200 non-manufacturing positions globally. The cuts come as its second-quarter sales plunged 14 percent to $841 million, trailing analysts' projections.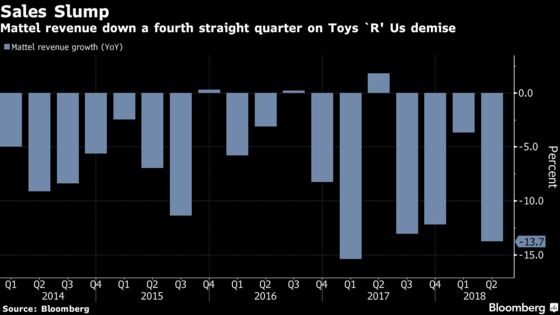 The stock fell as much as 11 percent to $14.50 in premarket trading. The shares had gained 5.9 percent this year through Wednesday's close.
The job cuts -- which began this week -- are part of a $650 million cost-cutting plan announced last year. The reductions are focused on back-office and support positions, according to Kreiz, who replaced Margo Georgiadis in April.
As part of the spending reductions, Mattel also announced that it's selling its two factories in Mexico. The company plans to move that production elsewhere. Kreiz is pushing the company away from doing its own manufacturing, so it can spend more on developing intellectual property. Mattel owns about a dozen plants globally.
"Our core expertise is in creative," Kreiz said in an interview. "We've been overly focused on putting resources behind manufacturing."
The difficult second quarter for Mattel came as major customer Toys 'R' Us was expected to finish closing all its U.S. stores after failing to emerge from bankruptcy. Mattel's gross margin took a hit, falling to 30.4 percent and trailing analysts' estimates by almost 8 percentage points.
"The gross margin was even worse than we thought," said Jaime Katz, an analyst for Morningstar Inc. Toys 'R' Us was the culprit, she said.
Two bright spots for Mattel in the quarter were Barbie and Hot Wheels, its two biggest brands, which both continued to grow. The doll line's sales increased 12 percent, a third straight gain. Hot Wheels sales advanced 21 percent.
The company's adjusted loss was 56 cents a share. Analysts had projected a loss of 31 cents.
Kreiz, who comes from the entertainment and media industries, sees Mattel improving in two stages. The company will first continue to reduce costs and return to profitability. Then he wants to get more out of the company's intellectual property by reviving dormant brands, and expanding others with film and television. A Barbie movie has been in development for years, but was recently delayed.
"We're transitioning Mattel form a toy manufacturing company into an IP-driven, high-performing toy company," Kreiz said. "This is to capture the full value from our portfolio."