Macquarie Group Appoints First Female CEO
(Bloomberg) -- Shemara Wikramanayake will succeed Nicholas Moore as chief executive officer of Macquarie Group Ltd., catapulting the low-profile company veteran into the ranks of Australia's most powerful businesswomen.
Moore, who has led Macquarie for a decade, will retire Nov. 30, the Sydney-based company said in a statement Thursday. The 56-year-old Wikramanayake, who joined Macquarie in 1987 and currently heads its asset management arm, becomes the group's first female CEO.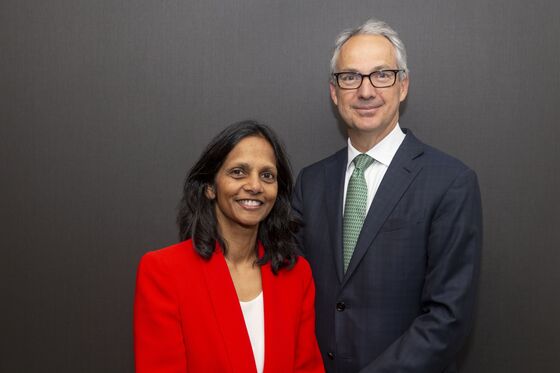 Wikramanayake will inherit a company that's transformed itself under Moore's stewardship from an Australian investment bank into the world's largest infrastructure asset manager, which now earns more than two-thirds of its income overseas. Its asset management, financial services and corporate finance businesses now account for 70 percent of earnings. Macquarie's share price has more than doubled under Moore's tenure.
In a brief trading update released Thursday, Macquarie said its first-quarter performance was up compared with a year earlier, though down from a strong fourth quarter, and it continues to expect full-year earnings to be in line with last year.
The shares fell as much as 4.7 percent in early Sydney trading, before paring losses to be down 2.4 percent at A$121.90 at 12 p.m. in Sydney. The stock has gained 22 percent this year, the best performance on the S&P/ASX Financials Index, and reached a record A$126.70 on June 28.
"We are very pleased to see Shemara's appointment," UBS Group AG analysts led by Jonathan Mott wrote in a note to clients. "We hold her in very high regard and believe she too has been fundamental in Macquarie's success."
Wikramanayake, who was born in the U.K. before her family moved to Australia, becomes the only female CEO among the nation's 20 biggest companies by market value.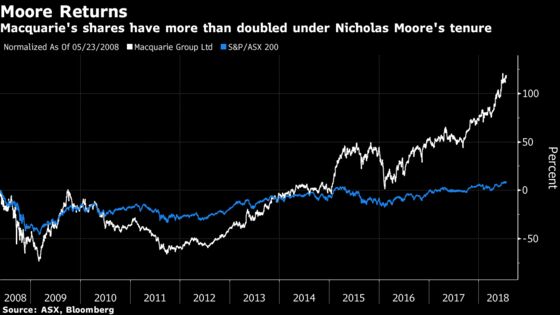 "She's the right person for the job," Bell Potter Securities Ltd. head of research TS Lim said, citing Wikramanayake's track record of delivering profits at the asset management arm and strong people and management skills. "I don't expect any change in the business model. They've de-risked the businesses since the global financial crisis and the returns are very good right now."
Wikramanayake has worked for Macquarie around the world, including establishing its infrastructure funds in the U.S. and Canada. She was appointed to head its global asset management business in 2008 when Moore took over as CEO.
Under her leadership, Macquarie Asset Management has become the company's fastest-growing and most successful division, employing more than 1,600 staff in 23 countries. It delivered net income of A$1.7 billion in the year ended March 31, accounting for almost two-thirds of group profit.
The division manages A$495 billion of assets ranging from toll roads and real estate to stocks, bonds and currencies.
Wikramanayake was paid A$16.7 million in total remuneration in fiscal 2018, making her the company's second-highest paid executive behind Moore, who earned A$18.9 million.
"I have been honored to lead our teams through a period of unprecedented market change, profitable growth and many projects that have positively impacted our clients and the communities in which we operate around the world," Moore, 59, said. "I am reassured in deciding to retire later this year that I leave Macquarie in a strong position and in safe hands."