Korean Builder Plunges 30% After Laos Dam Collapses
(Bloomberg) -- The construction company at the center of a $1 billion hydropower plant in Laos is feeling the heat after the collapse of a dam in the project left 20 dead and hundreds more missing.
SK Engineering & Construction Co. plunged as much as 30 percent in South Korea's over-the-counter market, the most since the stock began trading in August 2014, according to data compiled by Bloomberg. The shares fell 26 percent to 26,600 won as of 11:57 a.m. in Seoul. Its parent, SK Holdings Co., dropped as much as 6.2 percent on the main Korea Exchange.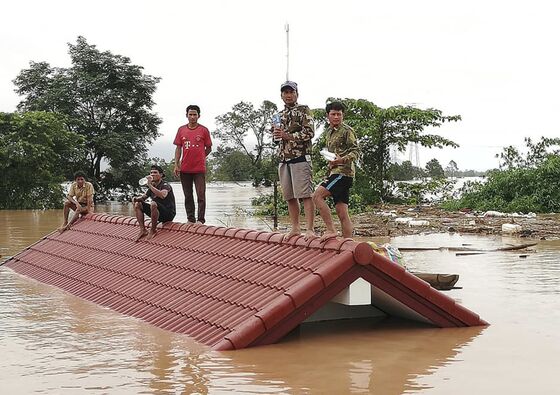 The dam in the southern part of the country collapsed at 8 p.m. local time Monday, causing flash flooding across six villages and leaving more than 6,600 people homeless, said the Lao News Agency, known as KPL. The United Nations said at least 20 people are believed to have died and many of the missing may have been killed.
The first sign of damage on one of the five supporting dams being built by SK Engineering was discovered late Sunday after heavy rainfalls, the South Korean company said in an emailed statement. It notified the Lao authorities immediately and is helping the local government in search and rescue efforts.
The project is a venture of SK Engineering, Thailand's Ratchaburi Electricity Generating Holding Pcl, Korea Western Power Co. and the Lao government. SK Engineering was in charge of constructing the facility.
South Korea's Office of Government Policy Coordination held a meeting late Tuesday to discuss measures for the collapse of the dam. Officials from various South Korean government organizations, SK Engineering and Korea Western Power will form a team in Laos to support the local government. A separate team in Seoul will also monitor the situation and meet to discuss further measures.
The over-the-counter market allows trading in shares of companies that aren't listed on the main board.