Homebuilder ETFs See Trading Surge as Owens Corning Tanks Sector
(Bloomberg) -- Pessimistic sales data and disappointing earnings reports led by Owens Corning are crushing homebuilders today. That's also starting to pressure investors of two exchange-traded funds that track the group, sending trading levels through the roof.
The $805 million SPDR S&P Homebuilders ETF, or XHB, had seen 5 million shares traded worth $192 million as of 2:15 p.m. in New York. That's already double the average daily turnover for the past year and more than triple the average 20-day volume for this time of day. The fund tracks an equal-weighted portfolio holding some stocks outside of the homebuilding category, like appliance-maker Whirlpool Corp., which tanked Tuesday.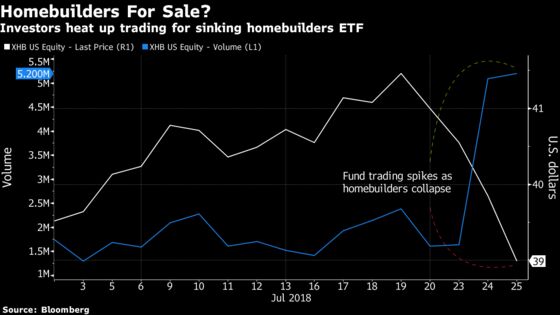 Investors also sent volume climbing for the $1.2 billion iShares U.S. Home Construction ETF, or ITB. The market-cap weighted strategy saw 4.8 million shares worth $177 million traded as of 2:15 p.m., close to three times the average 20-day volume for this time of day.
Both funds fell as much as 3 percent Wednesday after data showed U.S. purchases of new homes fell to the slowest pace in eight months in June, and the median selling price declined to the lowest in more than a year. That added to pessimism that appeared Tuesday when data showed existing home sales dropped for the third month in a row in June.
Owens Corning, which makes insulation and roofing shingles, fell as much as 14 percent.