Gilead CEO John Milligan Stepping Down From Biotech Giant
(Bloomberg) -- Gilead Sciences Inc. Chief Executive Officer John F. Milligan plans to step down, departing the biotechnology giant less than a year after striking a splashy deal for the maker of a pricey but promising cancer drug.
Milligan, 57, has led Gilead as it struggles to make up for continuously shrinking revenue from its blockbuster hepatitis C franchise. He will remain with the company through the end of 2018. The company also said former CEO John Martin would leave the board when a new chief executive is hired.
Under Milligan, Gilead spent $11.9 billion to buy Kite Pharma last year. Kite's cancer therapy, Yescarta, which genetically modifies cells to attack tumors, was portrayed by Gilead as a way of expanding the company's expertise beyond anti-viral treatments for HIV and hepatitis C.
"We are excited about our growth potential, and intend to hire a CEO who will build on the foundation that John Milligan has put in place and execute on our ambitious goals for the future," Martin said in a statement.
Gilead shares fell 2.43 percent to $77.00 in late trading. Through Wednesday's close, they had been up 10 percent this year.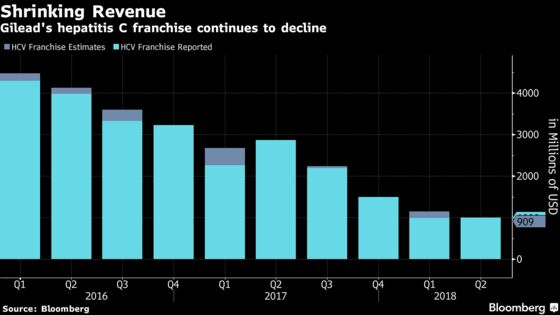 The announcement of Milligan's departure overshadowed a strong second-quarter earnings report from the Foster City, California-based drugmaker. The company generated $5.65 billion in revenue, beating the $5.19 billion analysts had anticipated on average. Adjusted earnings per share were also higher than expected, at $1.91 compared with estimates of $1.56.
In the second quarter, drugs from the company's suite of hepatitis C treatments beat estimates, with Harvoni bringing in $331 million compared with analyst estimates of $303.5 million on average and Epclusa beating estimates of $491.4 million with $500 million in sales. Gilead has faced increased competition from rival drugmaker AbbVie Inc., which reports earnings later this week.
In the first quarter, AbbVie's drug Mavyret proved stiff competition for Gilead when it exceeded expectations by more than 45 percent. The drug launched with a list price of $13,200, compared with a then-price of more than $31,500 for Harvoni. Previously, Gilead has tempered expectations for the hepatitis C franchise, reporting that it expects revenue to be $3.5 billion to $4 billion this year, compared with $9.1 billion in the previous year.
With revenue from hepatitis C drugs in a free fall since 2015, the company has turned to new therapies in hopes of replacing lost revenue. Last year, it bet billions on the rapidly growing field of cancer immunotherapy with the Kite Pharma deal. Gilead acquired Yescarta as part of that deal. In the second quarter, Yescarta brought in $68 million compared with analyst estimates of $59.1 million on average.
The company's new HIV drug, Biktarvy, approved by the Food and Drug Administration in February and the European Commission in June, generated $185 million, compared with the average analyst expectations of $136.5 million.