Ford Is Next on the Firing Line After Tariffs Wreak Havoc on GM, Fiat
(Bloomberg) -- Wall Street fears that Ford Motor Co. may complete a trifecta of troubling earnings reports from Detroit Three automakers, as tariffs real and imagined from Washington to Beijing wreak havoc on the globalized car industry.
Ford slumped as much as 4.3 percent Wednesday after General Motors Co. and Fiat Chrysler Automobiles NV both cut forecasts for profit this year. GM cited higher costs of commodities including steel and aluminum linked to the U.S. slapping tariffs on the metals, while Fiat Chrysler said Maserati buyers put off purchases until after China lowered levies this month.
The earnings reports worsened the slump that GM, Ford and Fiat Chrysler shares have been in since the beginning of June. President Donald Trump has made autos a focal point of the trade wars he's fighting with countries across the globe, and his administration is said to be considering tariffs on imported vehicles and components of as much as 25 percent. That's stoked concern among car companies of an even bigger blow to their business than what they sustained after the U.S. slapped levies on steel, aluminum and Chinese goods.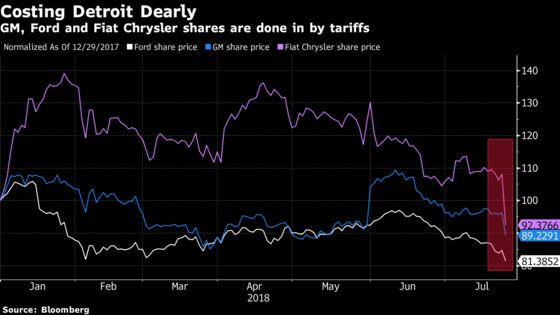 "This is certainly a little bit of a 'worst fears confirmed' sort of thing," Kevin Tynan, an auto analyst for Bloomberg Intelligence, said by phone. "This quarter is a chance for the automakers to show the effects or potential effects on their business."
GM said early Wednesday that adjusted earnings will drop to about $6 a share, down from a previous projection for as much as $6.50 a share. Raw material costs probably will be a $1 billion headwind -- roughly double the company's previous expectation.
Fiat Chrysler, which reported results hours after announcing the death of former Chief Executive Officer Sergio Marchionne, lowered several targets, including for net revenue and adjusted earnings before interest and taxes. Jeep sales have struggled to gain traction in China, while Maserati shoppers put off deliveries of Levante SUVs until after lower duties took effect in July.
Analysts are projecting Ford will report that earnings dropped to about 31 cents a share for the three months ended in June, from 56 cents a year earlier. Consensus estimates for the quarter have dropped dramatically since a supplier fire cost the company several weeks of production of its biggest moneymaker, the F-Series pickup line.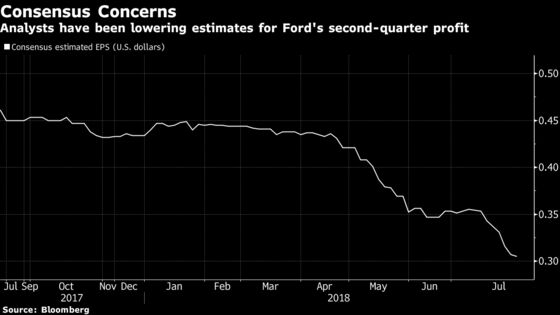 The hits could keep coming: Daimler AG, which last month became the first prominent company to cut its profit outlook due to escalating trade tensions between the U.S. and China, reports second-quarter earnings Thursday morning in Germany.