Fiat's Manley Off to Rough Start With Lower Profit Outlook
(Bloomberg) -- Fiat Chrysler Automobiles NV cut its financial targets after disappointing sales in China took a toll on second-quarter results, marking a rocky beginning to the tenure of new Chief Executive Officer Mike Manley.
The shares fell as much as 16 percent in Milan, the most since January 2017, following results announced just hours after the death of former CEO Sergio Marchionne. Manley started the call with a minute of silence to honor his mentor.
Tougher competition in China led to slumping sport utility vehicle sales, which marred Marchionne's final quarter at the helm and presented Manley with what he called the company's "biggest challenge" this year. The Italian-American automaker lowered its guidance for revenue and profit in 2018.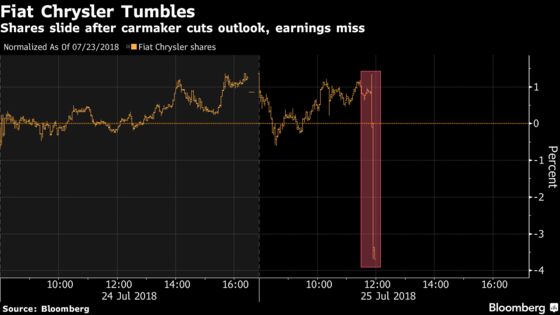 "It will take the balance of the year for us to really see the progress that I'm looking for, but the good news is I think we know what" the problems are in China, Manley said. "We can certainly fix them." The company is working to reposition the Jeep brand in China and needs to strengthen its dealer network there, he said.
Manley, who was thrust into the spotlight on Saturday when he was chosen to replace an ailing Marchionne, also fielded questions about how he would handle the loftier aspects of the CEO job -- navigating trade politics, and the aggressive dealmaking his former boss was known for.
He said Fiat Chrysler will remain "flexible" regarding the need to make deals, but that he intends to carry out the company's five-year strategy "as a strong and independent FCA."
The problems in China lie at the heart of his challenge: Fiat Chrysler's expansion plan is anchored on rapid Chinese growth for Jeep, a division the 54-year-old ran before Marchionne stepped down. The company aims to double profit over the next five years, a goal dependent on Jeep's performance in the world's largest automotive market.
Sales in Asia contracted during the second quarter, even as the company launched the Jeep Grand Commander, built in China specifically for that market. Operations in the region fell to a 98-million euro ($115 million) loss, as the slump extended to the luxury brand Maserati, whose customers waited for a July duty reduction to take delivery of Levante SUVs.
"The Chinese consumer, and the actions of certain industry players, forced manufacturers to pass on the reduced duties on the consumer before they had actually come into force on July 1," Arndt Ellinghorst, an analyst with Evercore ISI, said in a research note. Maserati was affected, "with some consumers delaying their purchase decision and others looking for price reductions."
2018 net revenue 115 billion euros to 118 billion euros, down from earlier forecast of about 125 billion euros
Adjusted earnings before interest and taxes 7.5 billion euros to 8 billion euros, versus 8.7 billion euros earlier
Confirms adjusted net profit goal of 5 billion euros
Net industrial cash goal now 3 billion euros, from 4 billion euros
The response by Manley and Chief Financial Officer Richard Palmer was drastic: a cut in 2018 profit targets. Palmer said on a call with analysts that Marchionne would have made the same decision.
"I do believe he would have changed the guidance," Palmer said. "My meetings with him regarding such actions were always fairly colorful."
Fiat shares were down 16 percent to 13.98 euros at 5:35 p.m., giving the company a stock market value of $25.4 billion.
Marchionne's death was confirmed Wednesday by Exor NV, the holding company of Fiat's founding Agnelli family. While the company wasn't specific about the cause of death, his health deteriorated following complications from a shoulder operation at a Zurich hospital, according to people familiar with the situation.
The CEO was credited with saving 119-year-old Fiat after taking over in 2004, then rescuing Chrysler from bankruptcy. He merged them and restored the combined company to financial health, achieving a long-time goal of eliminating net industrial debt in the period ended June 30.
Marchionne inherited an automaker that had lost more than 6 billion euros ($7 billion) in 2003. By 2005, he had returned the company to a profit by wringing some $2 billion from an alliance with General Motors, laying off thousands of workers, introducing new models, and slashing the time it took to get a new car to market to just 18 months, from four years.
In 2009, then-U.S. President Barack Obama's administration announced that Fiat would take control of Chrysler LLC, rescuing the American company from bankruptcy.
During his 14-year tenure, he increased shareholder value more than 10-fold, endearing himself to investors and rebuilding the fortune of the Agnellis.
"Sergio Marchionne, man and friend, is gone," Fiat Chrysler Chairman John Elkann, scion of the family, said in a statement. "My family and I will be forever grateful for what he has done," said Elkann, who also is chairman and CEO of Exor.