Deutsche Bank's Sewing Dares to Talk Growth Again After Cuts
(Bloomberg) -- Since Christian Sewing took over as Deutsche Bank AG chief executive officer, he has cut jobs, reduced risk and built capital.
Four months later, he's already talking about expanding again.
"We have executed actually on all the targets which we have set ourselves," Sewing said in a Bloomberg interview Wednesday. With its financial position strengthened, the bank now has "the possibility to redeploy capital and grow in the second half."
For investors who have been through the bank's previous turnaround plans, it's a familiar promise. John Cryan, Sewing's predecessor, had vowed to restore "controlled growth" last year after raising fresh funding, but failed to deliver. With the bank's key business of fixed-income trading on Wednesday reporting its weakest second quarter since the global financial crisis, shares of Deutsche Bank fell.
"I struggle to see too much in the way of revenue growth unless they significantly deploy capital, which I don't think shareholders will be particularly fond of," said Tom Hallett, an analyst at Keefe Bruyette & Woods Inc. in London.
Deutsche Bank fell 1.4 percent as of the market close in Frankfurt. The shares, which hit a record low in June, pared some of their losses since the company on July 16 reported preliminary results that were better than analysts had expected.
Read more: Deutsche Bank keeps finding new ways to disappoint
Sewing is cutting at least 7,000 jobs and retrenching in investment-banking areas such as prime finance, U.S. rates and corporate finance in the U.S. and Asia. About 1,700 of those reductions came in the second quarter. Sewing, in a memo to staff, urged employees to be disciplined on costs as revenue declines have in the past outpaced reductions in expenses.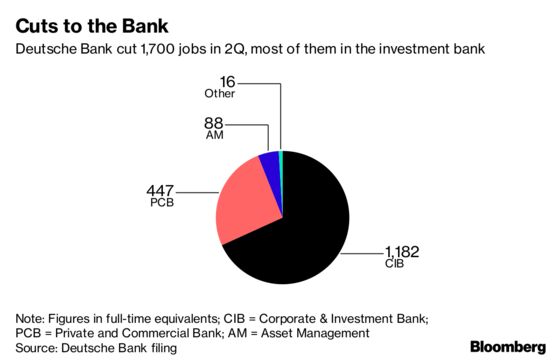 There was some progress in reversing that trend in the second quarter, with adjusted costs down slightly while revenue stabilized.
Sewing, who replaced Cryan with a mandate to execute more decisively, could also point to a few other positive surprises, among them a reduction in risk that's ahead of plan, and an important measure of financial strength that came in stronger than analysts had expected. That, he said, should allow the lender to put more money to work again in the investment bank, and particularly in fixed income.
"We built up the capital, we bring it back" to the fixed-income unit, Sewing said in the interview with Bloomberg TV anchor Matthew Miller. "With the processes we have, with the current franchise we have, I'm very confident that we will see growing revenue in that business going forward."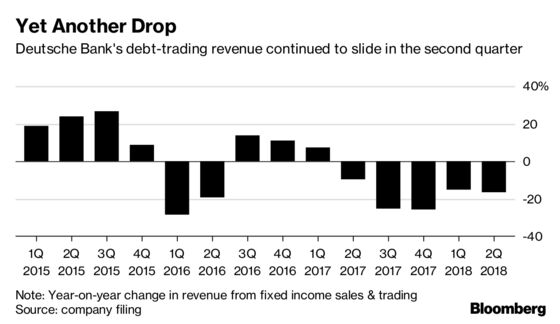 Higher funding costs, cuts to the U.S. rates business and exchange-rate swings will probably mean that revenue from fixed-income trading will be "slightly lower" this year, the bank said in a statement. Still, it's "confident of maintaining its position as the fourth-largest house globally in fixed income and currencies."
Income from buying and selling fixed-income securities slumped 17 percent from a year earlier to 1.37 billion euros ($1.6 billion), the lowest figure for a second quarter since 2008. The five largest U.S. investment banks saw total debt-trading revenue rise by 6.7 percent over the same time span.
Garth Ritchie, the head of the investment bank, said in a memo to employees that the fixed-income performance would have been comparable with peers when adjusted for commodities trading, which Deutsche Bank exited several years ago.
Equities trading declined 6 percent, and global transaction banking rose 4 percent from a year earlier.
"Deutsche Bank's trading revenue must show evidence in coming quarters that the bank is sustaining its global FICC position to support its strategy," said Alison Williams, an analyst at Bloomberg Intelligence. "Cost progress gives credence to its commitment."
Deutsche Bank needs to build momentum to reach its earnings goal, Fitch Ratings said in a report late Wednesday. If the bank fails to achieve its return on equity or cost targets, or sustains a "further loss of franchise" in its core businesses, Fitch would likely cut its ratings, according to the report. Fitch rates the lender at BBB+ and in June lowered its outlook to negative from stable.
Other highlights from Deutsche Bank's 2Q 2018 earnings:
2Q 2018
2Q 2017
Revenue
EU6.59b
EU6.62b
Fixed income trading
EU1.37b
EU1.65b
Equity trading
EU540m
EU577m
Adjusted costs
EU5.58b
EU5.64b
Pretax profit
EU711m
EU822m
Net income
EU401m
EU466m