Coke CEO's Gameplan Begins to Take Hold as Profit Tops Estimates
(Bloomberg) -- Coca-Cola Co. beat analysts' estimates in the second quarter, buoying investors who had been getting impatient waiting for signs that growth is taking hold at the soda giant.
Since taking the helm a little over a year ago, Chief Executive Officer James Quincey has been trimming expenses and trying to shift the beverage company's portfolio toward healthier drinks. And while he's managed to revitalize Diet Coke -- even as some consumers turn away from artificial sweeteners -- the company's stock has been stuck in neutral.
That changed on Wednesday. Coke posted second-quarter sales and profit that topped analysts' estimates, with its Diet Coke rebranding and a double-digit bump for Coca-Cola Zero Sugar boosting results. That sent the shares up as much 2.9 percent to $46.58, the biggest intraday gain since December 2016.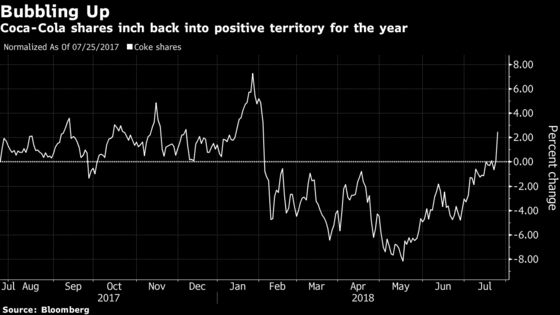 "The stock has hung in there over the last year -- I think investors are looking for that next catalyst," said Ken Shea, an analyst at Bloomberg Intelligence.
Profit in the latest quarter amounted to 61 cents a share, excluding some items, beating the average estimate of 60 cents. Adjusted operating revenue was $8.9 billion, compared with projections for $8.54 billion.
Though it remains the third-largest carbonated soft drink in the U.S., Diet Coke saw volume drop 4.3 percent last year, according to industry publication Beverage-Digest. In January, Coke launched the biggest-ever makeover for its original zero-calorie brand, releasing classic Diet Coke and four new flavors in taller, skinnier cans, spurring the American rebound. New flavors made up about a third of the brand's growth.
While volume slipped slightly for Diet Coke in the U.S. during the quarter, revenue for the brand gained for the second straight period and the company is optimistic it can sustain the comeback, Quincey said.
"It's a big change from where we were," he said on a call with media when asked about Diet Coke's performance. "We're working on the next iteration to keep the momentum going."
The company is now pushing those sugarless products further into global markets. The soda maker expanded its Diet Coke rebranding into Great Britain last quarter and debuted Coca-Cola Stevia No Sugar in New Zealand. The company also got a boost from its portfolio of bottled water and sports drinks, with unit case volume up 4 percent.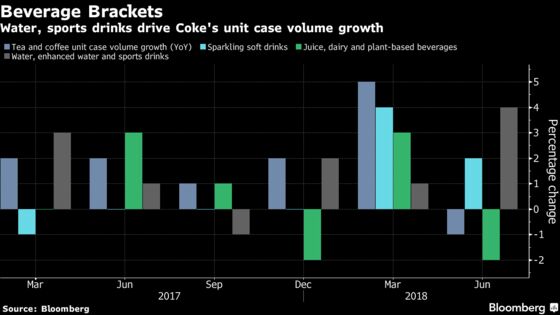 For years, the company has been selling off the bottlers it owned in order to refocus on becoming a marketing and formulation company. Still, Coca-Cola faces a tough road ahead, with changes to how consumers eat and shop rattling the U.S. food and beverage market. Coke also said it expects currency to be a bigger-than-expected headwind during the rest of the year, dragging down comparable operating income by 4 percent.
Quincey, 53, has pushed Coke to grow beyond its namesake brand to become a "total beverage company." The strategy continues efforts that began under predecessor Muhtar Kent. This has included investing in startup beverage makers in the search for its next $1 billion brand.
Quincey has been extending a productivity push started by Kent. Since becoming CEO last year, Quincey vowed to cut expenses by an additional $800 million.
"He inherited a tough hand," Shea said. "He deserves credit for tackling a pretty big challenge."