Cash Made Abroad Is What Sets These Turkish Company Bonds Apart
(Bloomberg) -- It's no coincidence that the only three Turkish hard-currency corporate bonds trading at a premium to government debt either generate more than half of their revenue overseas or have a wealthy foreign owner.
Bonds issued by Brewer Anadolu Efes and Coca Cola Co.'s local bottler stand out among more than 50 listed in the Bloomberg Barclays index with yields about 70 basis points lower than similar-maturity government securities. Their income stream is especially handy at a time when Turkish companies are grappling with a sinking lira and one of the highest interest rates in emerging markets.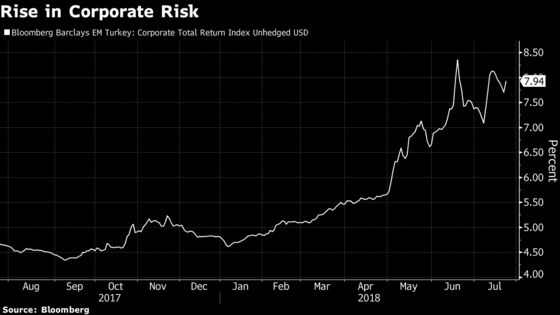 Anadolu Efes' $500 million bonds maturing in November 2022 traded at 5.55 percent versus 6.47 percent for similar-maturity government bonds on Wednesday. The company generates 58 percent of revenue outside Turkey, according to data compiled by Bloomberg
Coca-Cola Icecek AS's $500 million bonds with September 2024 maturity traded at 5.84 percent versus 6.83 percent for government bonds. The company generates 53 percent of its income abroad
KT Kira Sertifikalari Varlik Kiralama A.S.'s $500 million bonds maturing in November 2021 traded at 5.82 percent versus 6.14 percent for government bonds. The company issues lease certificates and is owned by the Turkish unit of Kuwait Finance House KSCP
The lira sank to a record low on Tuesday after the central bank stunned investors with a surprise decision to leave its benchmark policy rate unchanged even after inflation accelerated to the fastest pace in 15 years. Yields on 10-year local debt surged 166 basis points.
Despite the decision to hold, rates are up 500 basis points since the start of the year, confronting Turkish companies with higher borrowing costs as they grapple with $337 billion of debt.
The average yield on Turkish corporate debt rose to its highest in almost two years at 8.35 percent on June 19 and the spread over government bonds widened to 71 basis points as bank bonds came under selling pressure due to the weaker currency and higher rates, according to Bloomberg Barclays indexes.
Echoing the performance of Coca Cola Icecek and Anadolu Efes, other companies with less reliance on the domestic market trade at a small discount to government bonds. They include the oil refiner Tupras Turkiye Petrol Rafinerileri AS, glassmaker Turkiye Sise ve Cam Fabrikalari AS, and home appliances maker Arcelik AS.
"Turkey has been through significant economic volatility," said Warren Hyland, portfolio manager at Muzinich & Co Ltd, who owns bonds of Tupras and Sisecam. "Some companies have clearly demonstrated that they are prepared for this type of cycle."