Australia's Inflation Remains Subdued, Signaling Rates on Hold
(Bloomberg) -- Australia's inflation remained subdued in the three months through June, suggesting the central bank's interest-rate pause will extend into a third year.
The key annual core measure -- trimmed-mean inflation -- came in at 1.9 percent and has now undershot the central bank's target for 2-1/2 years, a government report showed Wednesday. Tradable goods prices, which are impacted by the currency and other international factors, climbed just 0.3 percent from a year earlier, highlighting the lack of global price pressures.
The report highlights "the disinflationary pressures that have plagued the Australian economy in recent years," said economist Callam Pickering of global jobs site Indeed, who previously worked at the central bank. "It appears unlikely that this inflation report will impact RBA thinking on monetary policy."
Headline inflation was largely boosted by a spike in oil after the crude price soared more than 60 percent in the 12 months through June. Reserve Bank of Australia Governor Philip Lowe expects consumer prices will only gradually return to the midpoint of the 2 percent to 3 percent target as the economy grapples with the wage weakness afflicting much of the developed world.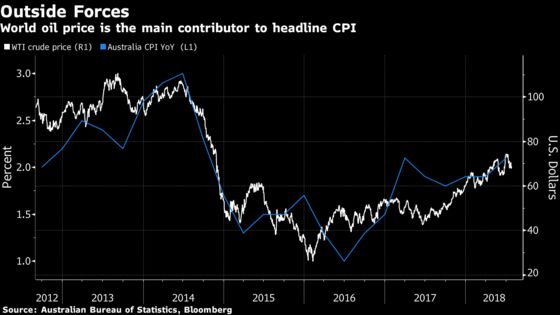 Policy makers are banking on a record-low cash rate of 1.5 percent to help boost hiring and tighten the labor market, while traders see little chance of a hike in the next year. The Australian dollar fell after Wednesday's report, buying 74.08 U.S. cents at 12:43 p.m. in Sydney from 74.37 cents prior.
"A lower Australian dollar would obviously help but it has shown little sign of breaking from its trading range over the past couple of years," said Pickering. "However, given the volatility of currency markets, the Australian dollar represents a clear risk to the inflation outlook."
Other Details:
Quarterly CPI, or headline inflation, climbed 0.4% in the second quarter vs estimated 0.5%; annual CPI climbed 2.1% vs forecast 2.2%
Quarterly weighted-median gauge, also a core measure, rose 0.5%, matching estimates, while the annual number also matched forecasts at 1.9%
The biggest quarterly price rises were automotive fuel, climbing 6.9%, medical and hospital services, jumping 3.1%, and tobacco up 2.8% 
Price declines saw domestic holiday travel and accommodation down 2.7%, motor vehicles 2% lower and vegetables falling 2.9% 
Non-tradables inflation, affected by domestic variables like utilities prices, rose 3% in the second quarter from a year earlier