'Tariffs Are the Greatest,' Earnings Are Very Good: Taking Stock
(Bloomberg) -- Stock futures are down slightly, in line with the European and Chinese markets, as the earnings barrage continues and the White House gets ready to host European Commission President Jean-Claude Juncker, a day after Trump boasted that "Tariffs are the greatest!," unveiled a $12 billion aid package for trade-burdened farmers, and later tweeted that both the U.S. and E.U. should drop all tariffs in the name of free trade: "Hope they do it, we are ready -- but they won't!"
On the earnings front, the count is up to 123 companies, or a quarter of the S&P 500 now having released quarterly results, with 91% beating on earnings and 76% coming in above expectations on the top line.
The general narrative of strong earnings and a market that seems to only want to climb holds, though there were some tense moments in Tuesday's session that rattled traders. Alphabet's beat crushed the FAANG naysayers and sparked a risk-on trade, but that fizzled out fairly early, marking a reversal in tech that caught a lot of people off guard.
Chip stocks were notably weak, more or less ignoring the solid guidance from Apple supplier AMS AG. The SOX closed near lows after a 2.3% peak-to-trough selloff to mark its worst day in two weeks. Meanwhile, I wouldn't define the action in some of the higher momentum names, like Roku -5.7%, Twitter -2.6%, Tesla -1.9%, and Netflix (now down 11% since last Monday's earnings), as particularly inspiring.
The selloff in smallcaps that mimicked the turnaround in the SOX added to the jitters, with the Russell 2000 notching its worst day in a month. This was only the fourth time that the RTY dropped more than 1% in the last three months, and the only time it did so when the S&P 500 closed in positive territory. See more on this from Luke Kawa in his story yesterday: "The 'Trade War Trade' in Stocks Suffers Its Biggest Setback."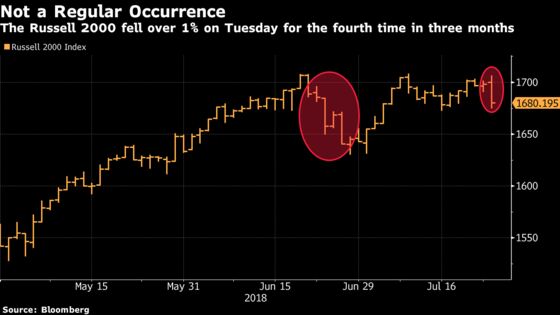 Sectors that may outperform today:
Defense as Northrop Grumman follows a well-received Lockheed result with a beat and raise
Reinsurance group after RenaissanceRe earnings topped the highest estimate by a mile
Staffing stocks after a strong third-quarter forecast from Robert Half (+3.7%)
Nutrition names after Usana Health soared (+16%) on continued strength in Asia Pacific sales growth
Sectors that may underperform today:
Semis -- this is a tough call to make right now given all of the moving parts, and especially with some solid reports from names like Texas Instruments (though they preannounced; Evercore ISI sees positive read-through for MXIM and ADI) and Teradyne (shares surged 9% last night). But STMicro reversed course on weaker margin guidance (-4.2% in Milan) while MKS Instruments' report didn't help (-2.8%). And sentiment in the space may hinge anyway on whether the NXP Semi/Qualcomm deal breaks or not; right now NXPI is down ~3% to $97.77, even further below the $127.50 offer, as Reuters reported China approval likely isn't happening
Autos after GM (-4.1%) cut its year profit forecast
Lodging sector as Hilton is indicated lower after 3Q forecasts aren't measuring up well with the consensus view
Building products as Owens Corning ticks lower on a big miss
Notes From the Sell Side
A mini-debate over Spotify is brewing, with Pivotal Research's Jeffrey Wlodarczak becoming the first analyst to downgrade the stock since the April IPO. He cites valuation and potential weaker than consensus monthly active user trends. This follows Morgan Stanley pumping their $300 bull case for the stock this morning and BTIG initiating the "must-own" stock with a Street-high price target earlier this week. Spotify reports earnings Thursday before the open.
Nomura Instinet previews the Tesla quarter, reiterating its buy and price target of $450 (well above the Street average ~$312), and talking about how fundamentals will improve in 3Q. The meat of the note, though, talks about how they expect to see short interest return to record levels around the time of the earnings release. Here's two quotes that I feel need to be pointed out:
"The current short interest reflects a strong belief that Tesla faces insolvency over the coming periods due to its strained balance sheet"
"The bankruptcy narrative though is reemerging just as revenue is about to make a step-function increase"
Mizuho slashes HRL to an underperform on earnings risk related to retreating pork margins: "While we believe the Hormel team can hammock the swings better than most, we think Street estimates on RFG Foods margins over the next two years reflect the bull case, and are too high in the face of rising processing capacity and trade volatility."
And Cowen is lifting LMT to an outperform after yesterday's beat, citing overblown F-35 concerns ("the F-35 likely is the defense sector's lowest risk growth program through 2025") and expecting a "great" set-up in into the 3Q call.
Tick-by-Tick Guide to Today's Actionable Events
Today -- NXPI/QCOM deal termination date
Today -- IPO lockup expiry: SLDB, ARMO, TORC, AGS
7:00am -- GM, DAN, UPS, ROK, PNR, SIRI, TRVG, SIX, TUP earnings
7:05am -- SLAB earnings
7:15am -- WM (roughly) earnings
7:30am -- BA, GD, BCO, HBAN, HES earnings
8:00am -- APH, AVX, NSC, KDP (roughly), FCX earnings
8:00am -- USG earnings; DB earnings call
8:30am -- LW, HCA earnings
8:30am -- KO, UPS, ANTM earnings calls
9:00am -- GRUB earnings
10:00am -- GM, FCX earnings calls
10:30am -- DoE oil inventories
10:30am -- BA earnings call
11:10am -- Bloom Energy CEO KR Sridhar on Bloomberg TV
1:00pm -- Treasury auction: $36b 5-year notes
1:30pm -- Trump scheduled to meet with Juncker
2:30pm -- Pompeo testifies on national security before Senate committee
4:00pm -- ALGN earnings
4:01pm -- LVS, MPWR, ALGT, GILD earnings
4:03pm -- ETH earnings
4:05pm -- FB, QCOM (roughly), FFIV, CTXS, V, MHK, KNX (roughly), MDLZ, MAT, DDR, VRTX earnings
4:09pm -- VAR earnings
4:10pm -- NOW earnings
4:15pm -- AMD, PYPL, CLGX, DLB, F, LSTR, STAY, LM, EFX earnings
4:20pm -- XLNX earnings
4:30pm -- FFIV earnings call
4:30pm -- BIIB/Eisai Alzheimer's data presentation
4:40pm -- F CFO Robert Shanks on Bloomberg TV
4:45pm -- QCOM earnings call
5:00pm -- MAR earnings
5:01pm -- ABX, OII earnings
5:00pm -- FB, NOW, V earnings calls
5:30pm -- AMD, F earnings calls
6:00pm -- PYPL earnings call
6:00pm -- BIIB webcast on Alzheimer's data
Tonight -- IPOs scheduled to price: Pinduoduo (PDD), Berry Petroleum (BRY), Aurora Mobile (JG), Tenable (TENB), Cango (CANG), Liquidia Technologies (LQDA)