Verizon Posts Solid Subscriber Growth as New CEO Takes Over
(Bloomberg) -- Verizon Communications Inc.'s strong subscriber numbers last quarter vindicate departing CEO's go-alone strategy while rivals like AT&T Inc. are distracted with M&A efforts. At least for now.
Total monthly subscribers including for phones, tablets and watches grew by 531,000 in the second quarter, Verizon said on Tuesday, topping the 436,000 average of analysts' estimates compiled by Bloomberg. It's the fifth straight quarter of growth for the largest U.S. carrier.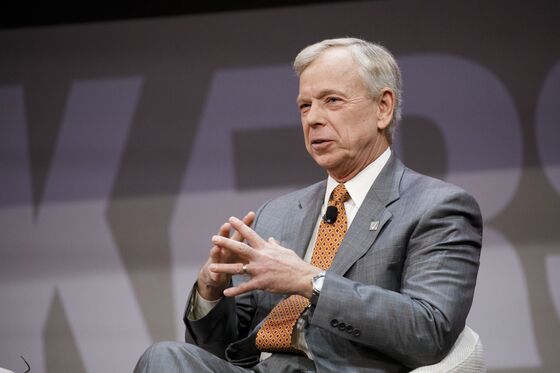 Chief Executive Officer Lowell McAdam, who hands off the top job next week, is leaving on a high note after choosing not to seek transformative megadeals like AT&T's $85 billion takeover of Time Warner Inc.
But there are challenges ahead in the maturing U.S. wireless market. Smaller rivals T-Mobile US Inc. and Sprint Corp. have agreed to merge in a deal that would combine the No. 3 and No. 4 in the industry. New rivals are emerging, including Charter Communications Inc.
"Verizon has benefited from the current lull in wireless competition, but we suspect that it won't last long," Jonathan Chaplin, an analyst with New Street Research LLC, wrote in a note. "Competition from cable is rising, with Charter entering the fray late in the quarter."
Verizon's shares were little changed at $50.78 as of 9:57 a.m. in New York.
Adams's successor, Hans Vestberg, the one-time head of Ericsson AB, has signaled that Verizon will keep its focus on its network and efforts like 5G wireless upgrades.
During the second quarter, Verizon reversed losses in mobile phone subscribers -- a key metric followed by Wall Street -- from the previous period. Those subscribers grew by 199,000, compared with a range of 170,000 to 220,000 from three analysts.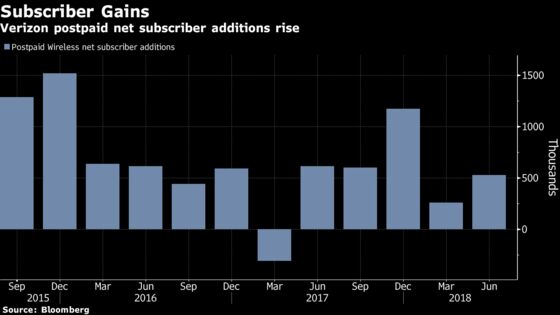 Earnings came to $1.20 a share, excluding some items, topping the $1.14 average of analysts' estimates. Revenue grew to $32.2 billion, while analysts projected $31.8 billion.
The New York-based company raised its 2018 revenue growth forecast to a low-to-mid single digit percentage growth, up from a low-single digit outlook back in April. The company also sees capital spending at the low end of its previous forecast of $17 billion to $17.8 billion.
Read More: Verizon second-quarter earnings top estimates