United Tech Needs a Breakup But Has Options
(Bloomberg Opinion) -- United Technologies Corp.'s latest earnings give breakup enthusiasts more ammunition, but there's more than one way to split up this industrial conglomerate.  
The $107 billion company reported a mixed bag of second-quarter results on Tuesday. On the one hand, its adjusted earnings per share beat analysts' estimates and United Technologies again raised its full-year guidance. On the other, a lot of that earnings beat came from below-the-line benefits on taxes and interest expense. And while profit at the company's aerospace divisions was stronger than expected, the Otis elevator and climate-controls business turned in weak showings.
This dichotomy gets to the heart of the breakup case for United Technologies. Its business units are on different trajectories, so mixing them together has tended to mean earnings end up looking just OK. This perpetuates the conglomerate discount that's long haunted the company. On the earnings call, United Technologies CEO Greg Hayes says the board continues to evaluate a split and will make a decision in the fourth quarter. Today's results give Bill Ackman's Pershing Square and Dan Loeb's Third Point more material to work with as they press their case for a breakup.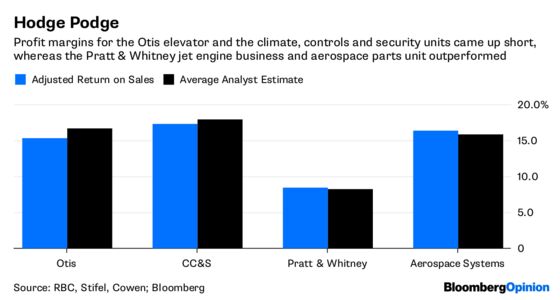 Otis operating margins shrank by 230 basis points year over year. The company blamed a large chunk of that shrinkage on one-time charges, but even backing that out, this was still a disappointment relative to analysts' estimates. The shortfall is largely a function of less profitable China orders made when Otis was trying to win market share there. Chief Financial Officer Akhil Johri says pricing and mix dynamics have turned slightly positive in China for orders it's taking now, so "as we run through the backlog of 2017 badness, when I look at 2019,  hopefully that number starts to become a little bit better." Hopefully is a difficult word for investors who have watched Otis muddle through margin pressures for years.
Rising commodity costs, labor shortages and the impact of tariffs are weighing on the Otis business as well as the climate unit, with the latter in a better position to offset those headwinds with price increases. United Technologies lowered its 2018 operating profit forecasts for both the Otis and climate divisions. Interestingly, Hayes estimated $50 million in added costs, or a five-cent hit to 2018 EPS, from steel and aluminum levies and the current tariffs in effect in the U.S.'s trade spat with China. Half of that is attributed to the climate unit, about $10 million is tied to Otis and the rest affects the aerospace divisions.
These businesses may seem more out of place once United Technologies completes its $30 billion acquisition of Rockwell Collins Inc., which is set to close in the third quarter. But while the standard thinking has been that the company would spin off Otis and the climate unit into standalone entities, there are other ways to effect a transformation. Asked about alternatives on the call, Hayes said "all options are on the table" and highlighted the company's decision to divest its Sikorsky helicopter unit to Lockheed Martin Corp. in 2015 rather than following through with the initially planned spinoff. I would argue those comments were a bigger driver of the more than 3 percent stock gain as of midday in New York on Tuesday than the actual earnings numbers.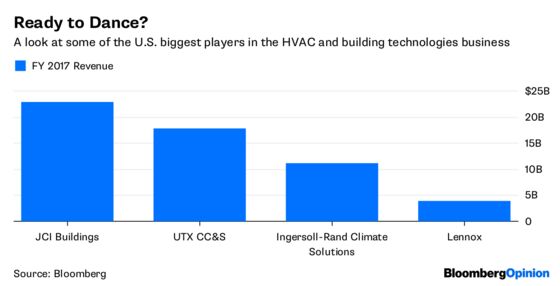 Barclays Plc analyst Julian Mitchell has written about the possibility of a private equity buyout of Otis. It would be a large deal at roughly $30 billion and the business may command a higher multiple than the parent company given its high market share and strong cash-flow trends, but a takeover may offer attractive returns, he wrote in an April report. Then United Technologies would be free to pursue a merger for its climate business. Mitchell suggests Johnson Controls International Plc's buildings division may be a good fit for a tax advantageous Reverse Morris trust. Recall that Johnson Controls is exploring a divestiture of its
misfit power unit
, but that's unlikely to create much value on its own. Some sort of transaction with Ingersoll-Rand Plc's climate division or Lennox International Inc. is also a possibility, although there are antitrust issues with those options. 
There's more to come on this breakup story.   
This column does not necessarily reflect the opinion of the editorial board or Bloomberg LP and its owners.
Brooke Sutherland is a Bloomberg Opinion columnist covering deals and industrial companies. She previously wrote an M&A column for Bloomberg News.