Trump Organization Plans $197 Million Expansion in Scotland
(Bloomberg) -- Donald Trump's real estate company plans to spend 150 million pounds ($197 million) building homes, vacation cottages and sports facilities adjacent to the golf resort the U.S. president owns in northeast Scotland.
The Trump Organization said in a statement on Tuesday it submitted the proposal to Aberdeenshire Council for approval. It adds to the 100 million-pound investment in the golf course and hotel at the site on the North Sea coast. The expansion, like the existing investment, will be paid for by the company with no external financing, it said separately.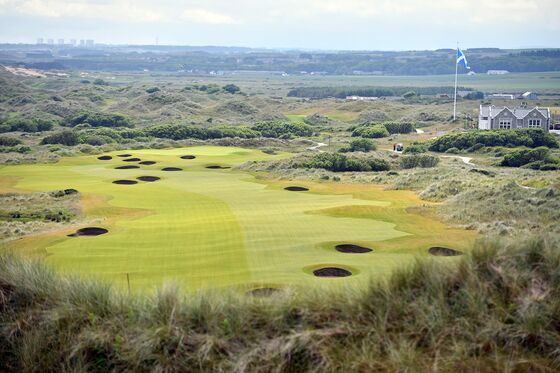 The project has been fraught with controversy over the years. Trump clashed with environmentalists, local residents and the Scottish government over the investment in Aberdeenshire.
His Scottish investments also failed to make money based on the latest filings. Losses at Trump Turnberry in western Scotland more than doubled to 17.6 million pounds in 2016 and widened to 1.4 million pounds at the course in Aberdeenshire.
Trump's visit to Scotland this month for a weekend break sparked protests in Glasgow and Edinburgh. Neither Scottish First Minister Nicola Sturgeon nor any of her government welcomed him. Sturgeon stripped Trump of his status as a business ambassador for Scotland following remarks he made about Muslims in 2015.
A spokesman for Aberdeenshire said on Tuesday afternoon the council received the planning application. Officers must process it before it's considered valid, he said.